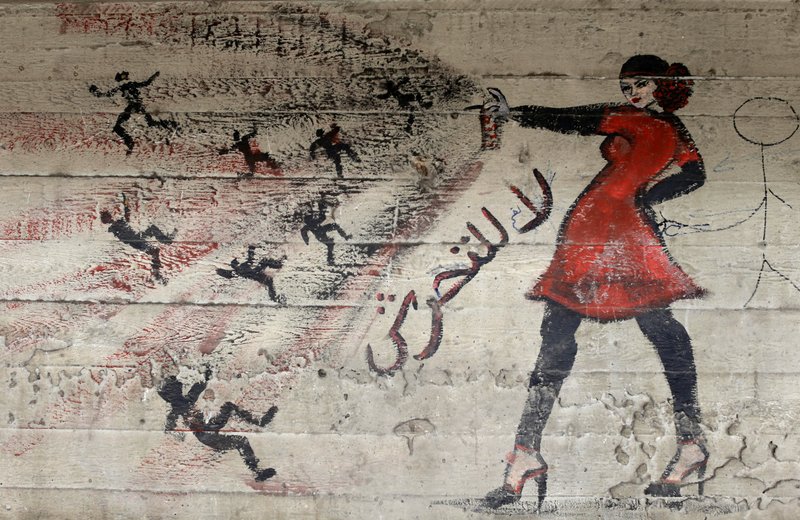 Daqahliya authorities have arrested 17 people over their involvement in an incident of mass sexual harassment in Egypt, after a video showing a mob of men surrounding a young woman in Mansoura on New Year's Eve was shared online, prompting outrage on social media.
Also on Friday, Egyptian prosecutors ordered that seven suspects be remanded over their alleged involvement in the incident, pending further investigation.
The victim of the assault, Z. A. Sh., is a 20-year-old student at Sallab Engineering Institute and originally from Kordy village.
She confirmed to police on Friday that she was walking with her friend M. M., 20, a student at the Faculty of Physical Education, when she was surprised by a group of young men photographing her from behind, with one of them trying to touch her. She confronted the man as other men gathered around her.
"We tried to take shelter in a mobile shop that was directly in front of us, and we actually entered it, but the owner of the store asked us to leave because of the young men gathering in front of the shop and yelling curse words and whistling," she said.
"We left the store to try to escape from them," she continued, describing how the group of men surrounded her and her friend as they attempted to flee from the shop. Her friend, she says, managed to escape the scene.
"I was not able to get rid of them, as they had surrounded me from all sides. I began to cry for help and scream until a group of honorable young men came and defended me (from the harassers)," she added, explaining that she managed to escape the scene in a private car with their help.
The young woman said she felt shaken when she reached home, adding that she was too upset to go to the police station to report the crime.
During interrogations, the arrested suspects initially denied committing the crime, but after investigators showed them the recorded video of the incident, they confessed to harassing the girls, adding they were "joking at the beginning before it turned serious."
The police have intensified their efforts to locate and arrest the rest of the perpetrators in the incident, and investigators have inspected surveillance camera footage and questioned more than 20 people — including workers at commercial shops near the site of the incident, people employed at garages, and doorkeepers in the area.
Major General Fadel Ammar, who acts as head of the Daqahliya Security Directorate, had received notification about a video on social media sites appearing to show a mob of men surrounding and sexually harassing a young woman on al-Gomhoria Street near the Mansoura University gate on New Year's Eve.
Meanwhile, anger and shock prevailed on social media over video and news reports of the incident.
One user commented: "The video of mass harassment of a girl in Mansoura shocked me. I used to be one of its residents. The city is known for its calm and in history as a home for culture, art and beauty. Its streets accommodated different nationalities and cultures that lived in peace. How was it seized by herds of criminals and mass harassers?"
Another described what happened as "barbarism," urging the police to arrest the perpetrators. 
The Egyptian government passed an anti-sexual harassment law in April 2014, penalizing those found guilty of sexual harassment with a fine of LE3000 to LE5000 and/or a jail sentence of no less than six months.
Sexual harassment and gender-based violence is widespread in Egypt. According to a 2013 UN study, 99 percent of women in Egypt have been subjected to some form of sexual harassment.
Edited translation from Al-Masry Al-Youm
Image: In this May 24, 2013 file photo, a mural with Arabic that reads "no harassment," is seen on a wall in Cairo, Egypt (AP Photo/Hassan Ammar, File)