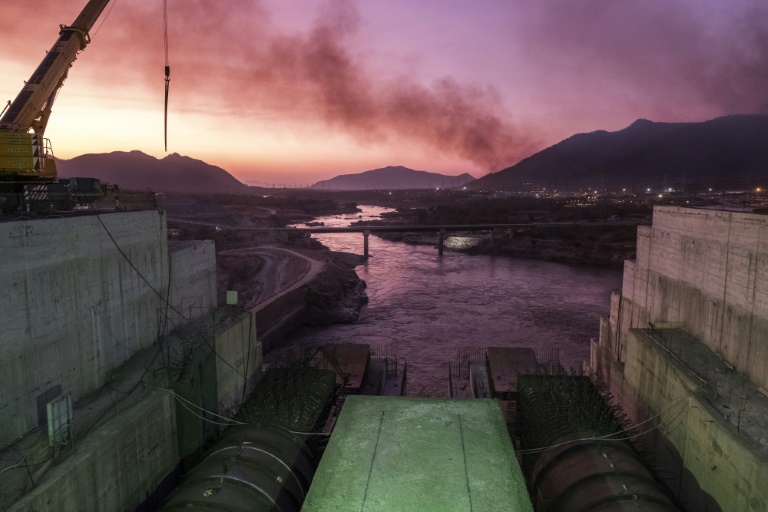 Egyptian Foreign Minister Sameh Shoukry stressed during the UN Security Council's video conference session on the Grand Ethiopian Renaissance Dam (GERD) that Egypt will not allow any threat to its water security, and added that his country has been involved in painstaking negotiations for almost a full decade.
"Our country participated in all negotiations on the Renaissance Dam so that Ethiopia can realize its development goals without affecting our interests," he said.
Shoukry hoped that unilateral measures would not threaten the rights of downstream nations and endanger the lives of over 150 million people, adding that the "Declaration of Principles on the Renaissance Dam was an international agreement, setting clear obligations that are not vague or ambiguous."
"We aim through talks to reduce the risks of the dam to Egypt and Sudan" he said, and added that Ethiopia should conduct a study on any impacts from the dam.
Ethiopia's delegate to the UN meanwhile said that negotiations between the three countries have not ended, with most of the outstanding issues regarding the GERD having been agreed upon.
In his speech before the Security Council, the delegate said that reaching an agreement on the GERD would be easy to achieve.
He continued: "The African Union has the will and expertise to seek an agreement on the Renaissance Dam."
"Ethiopia is looking forward to use its resources in a reasonable way after we have been deprived of that," he added.
"We do not believe that the issue of the Renaissance Dam has a legitimate place in the Security Council today, as the issue has been unfairly brought to the council."
Sudan's delegate to the UN, Omar Seddik, said that while his country recognizes Ethiopia's right to develop its water resources to benefit its people, Sudan borders the Blue Nile and could be negatively impacted by the GERD's construction.
Seddik added that in order to mitigate the negative effects of the Ethiopian dam, there must be an agreement between the three countries regarding filling and operating the dam.
Sudan since 2011 has been involved in all GERD negotiations and has committed to the UN's agreement on the use of water resources while preserving the customary water law's basic principles, he said.
He added that the return to negotiations will enable the three countries to adopt a vision and reach a solution.
Sudan calls for a commitment by all parties to resolve outstanding issues and reach a just agreement, Seddik concluded.
Edited translation from Al-Masry Al-Youm