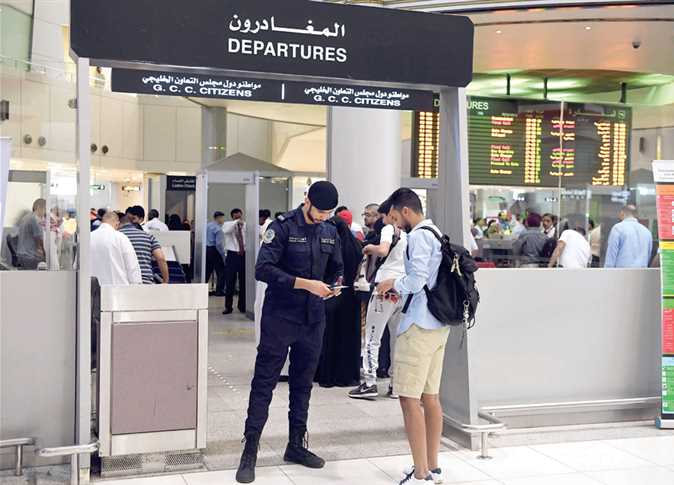 Egypt's Cabinet spokesperson Nader Saad said on Monday that there has been no official decision from Kuwait to stop issuing visas for Egyptians as part of measures to stop the spread of coronavirus, with over 1,000 cases having been confirmed in the Gulf so far, the vast majority in Iran.
During a phone-in with Ahmed Moussa's TV show "Ala Massoulity" (By My Responsibility), on the privately-owned satellite channel Sada al-Balad, Saad added that the cabinet contacted the Kuwaiti ambassador in Egypt Mohamed Saleh al-Thawikh, who denied any decision suspending the issuance of visas to Egyptians.
Kuwait's Al-Qabas newspaper reported on Sunday local security sources saying that Kuwait's Interior Ministry had suspended issuing entry visas for Egyptian nationals until further notice, as part of precautionary measures to stop the spread of coronavirus.
Qatar over the weekend imposed a temporary entrance restriction on visitors from Egypt "via intermediate points" amid fears over the spread of coronavirus, the state news agency reported on Sunday, according to Reuters.
Egypt reported its second confirmed case of coronavirus over the weekend as well — a foreigner in Egypt who was immediately placed in quarantine, along with 1,500 others who may have had indirect contact with him.
Kuwait had confirmed 56 cases of the virus as of Monday, according to Reuters.
The sources cited in the Al-Qabas report said that the new measure did not apply to Egyptians inside Kuwait with valid residency permits. The suspension does include all tourism, commercial and work visas, however, according to the report.
During a press conference at Cairo Airport ahead of an official visit to China on Sunday, Egypt's Health Minister Hala Zayed urged the public to avoid falling for "rumors" about the spread of coronavirus and to trust that the Ministry was remaining transparent, after the second case of the new respiratory illness was confirmed in the country.
Coronavirus, or COVID-19, has killed over 3,100 people and infected upwards of 90,000. Cases are also rising at a more rapid rate outside of China, according to the World Health Organization, with nearly 5,000 cases reported in South Korea and 28 deaths.
In Iran, 66 people have died from COVID-19, according to Reuters.
Edited translation from Al-Masry Al-Youm