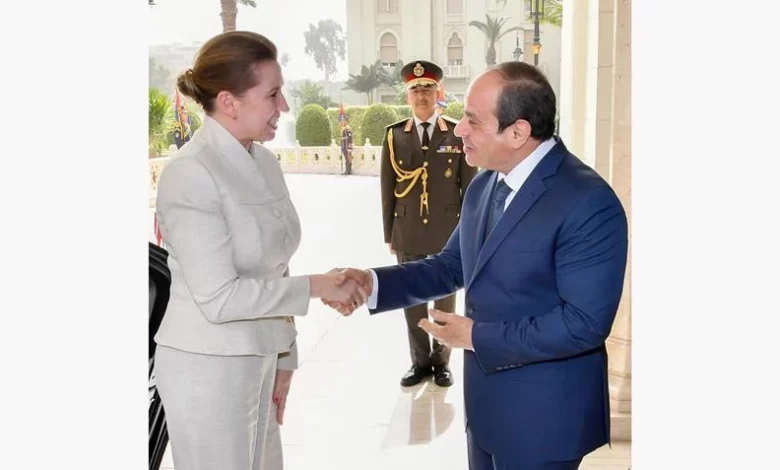 Egyptian President Abdel Fattah al-Sisi met with Danish Prime Minister Mette Frederiksen on Monday to discuss the Grand Ethiopian Renaissance Dam and the water shortage crisis Egypt faces.
"I found an understanding with Her Excellency the Prime Minister that the driest country in the world, Egypt, has no chance of enduring any water shortage at any given time," he said.
"I found understanding from the Prime Minister on the importance of reaching a legal solution or a binding legal agreement regarding the filling and operation of the dam with our Ethiopian brothers," Sisi said during a joint press conference with Frederiksen, on Monday.
"There are 10 years of effort and keenness on our part to find an appropriate solution through negotiation with our Ethiopian brothers," Sisi assured.
"We understand development in Ethiopia, and we say this on every occasion, but we also say, while we understand this and are ready to cooperate with them in it, that must not impact the Egyptian citizen in any way."
"I indicated to Her Excellency the Prime Minister that we are making a very great effort to benefit from every water drop in Egypt, whether through treatment and recycling or desalination of sea water in the Mediterranean and the Red seas."
He emphasized: "By the way, there has never been a dam on the Nile over thousands of years that affects the water, whether it is a lot or a little. The water quota we used to take did not change, even if there were difficulties, and we accepted that."
Stagnant talks
The Ethiopian government announced on August 11, 2022, that it has completed the third GERD filling unilaterally.
It announced the operation of the second turbine in GERD to generate electric power, which comes in light of the tension between Addis Ababa and Egypt, Sudan due to what the two countries consider a negative impact of the dam on their water shares of the Nile River.
Egypt and Sudan say they want a legally binding agreement on operating the dam, while Ethiopia says any pact should be advisory.
Both countries consider the dam a threat to their vital water supplies, while Ethiopia considers it essential for development and doubling its electricity production.
The downstream nations fear possible blows to water facilities, agricultural land, and overall availability of Nile water.
Negotiations over the dam between Egypt, Ethiopia, and Sudan have stalled for years, with the three parties ultimately failing to reach any agreements.
The disputed dam is the largest hydroelectric project in Africa, with a cost of more than four billion dollars.