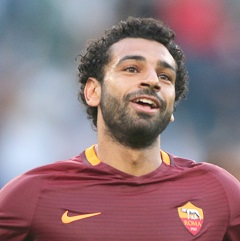 Egypt coach Hector Cuper couldn't say for certain whether Mohamed Salah's absence was the thing that cost his team during its 1-0 loss to Uruguay at the World Cup.
But he also wasn't sure that his star striker couldn't have helped the Pharaohs pull off an upset in their Group A opener.
"Mo Salah is an important player for us, that is without a doubt," Cuper said after Friday's match. "Perhaps if Mo had been on the pitch today the outcome could have been different, but we'll never know that."
The odds of Salah sitting out back-to-back World Cup games with his injured left shoulder are even slimmer.
On Thursday, Cuper was optimistic that Salah would play in the opener. But he said the decision was made to be cautious on Friday. Though he quickly added he thinks Salah will be ready for Tuesday's crucial match against Russia in St. Petersburg.
"The decision is always taken by myself and the staff, especially in a case like Mo Salah's case," Cuper said. "Yesterday we were quite certain during that training session he would play. After the session there was question whether if he fell if he could get another injury.
"So we decided not to take that risk because we want to be sure we have him in top form in our match against Russia and Saudi Arabia."
Egypt had only eight shots on goal and three on target against Uruguay as it struggled to create opportunities inside Uruguay's well-organized defense.
Marwan Mohsen did his best to push the action in Salah's place. It just wasn't the same.
"I think we have what we have, and we try to do our best with what we have," Cuper said. "I think we do have good forwards and good players to do a good job here at the World Cup. … Perhaps we should have attacked more, but I think today we did go on the offensive."
When Egypt did find a few openings in Uruguay's defense, their attempt to play the ball into dangerous positions were thwarted by deflections or eventually smothered by multiple defenders.
As Salah looked on from the bench and several times tried to clap his teammates into one final push, the Pharaohs spent most of their energy in the second half simply trying to fend off Uruguay's increasing pressure on their end.
The effort was clearly there. Their luck and time simply ran out.
Afterward, even Uruguay coach Oscar Tabarez conceded that the result might have been different had Salah been on the field.
"Today," he said, "could have easily been a draw."