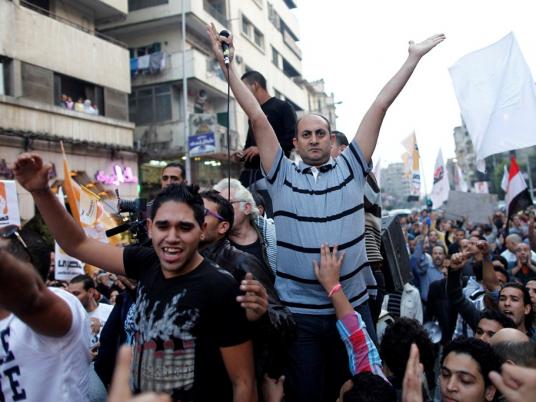 Dokki's Misdemeanor Court on Monday adjourned the hearing of former presidential candidate and prominent lawyer, Khaled Ali, until July 24, as an expert commissioned to examine the case evidence was absent from the session.
The expert from state-owned television was commissioned to examine a video submitted to the court as evidence that Ali publicly gestured with his middle finger in response to the Supreme Administrative Court's verdict on the Tiran and Sanafir Islands case.
Ali has denied making obscene gestures, adding that the videos submitted to the prosecution as evidence have been photoshopped. He claimed that the case against him is clearly a response to the lawsuit he previously filed in order to invalidate the maritime demarcation deal with Saudi Arabia.
The court on Monday fined the TV expert LE400 for not attending the session, and renewed the summoning order for him, to give account of his examination of the evidence.
The session witnessed tightened measures, with the presiding judge ordered media representatives not to attend the session, which spanned a mere 10 minutes.
For the second time, Khalid Ali was absent from the session, while members of the Eish & Horreyya (Bread and Liberty) Party and Dostoor (Constitution) Party gathered in the courtroom, as well as a group of lawyers.
In a statement to al-Masry al-Youm, Mali Adly, Khalid Ali's lawyer, said that the defense team was not allowed to watch the video footage evidence against Ali because the court decided it would only be shown in the presence of a technical expert from the Union of Radio and Television.
Edited translation from Al-Masry Al-Youm