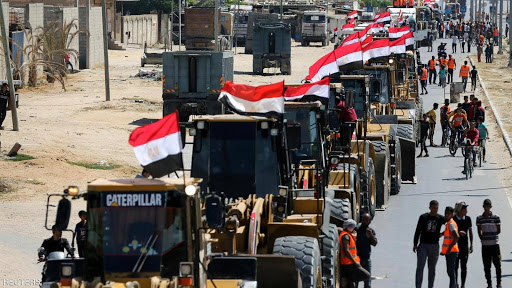 Egyptian authorities announced Friday evening that it has brought heavy equipment into the Gaza Strip through Rafah crossing in North Sinai to remove rubble left from the Israeli strikes in preparation for the Strip's reconstruction.
Sources said that the authorities brought in a total of 52 vehicles into Gaza, accompanied by 22 Egyptian engineers and technicians based on directives of Egypt's President Abdel Fattah al-Sisi. Palestinian sources added that these vehicles include 16 bulldozers, 27 trucks and more.
Last month, Sisi announced that US$500 million had been allocated as part of Egypt's initiative for the reconstruction process in the Gaza Strip, with specialized Egyptian companies participating.
Israel bombed the Gaza Strip for 11 days from May 21 following weeks of protests and clashes in Jerusalem over Israeli police deployment around al-Aqsa Mosque, and attempts by settler groups to evict Palestinian families in the Sheikh Jarrah neighborhood.
More than 250 people were killed, the vast majority of whom were Palestinians living in Gaza. The war ended after a truce brokered by Egypt, and efforts are continuing to stabilize it between the two sides.