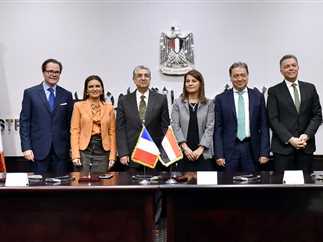 Egypt and France signed on Thursday four agreements in the fields of energy, transport, health care and small and medium-sized enterprises, with a total value of about 60 million euros at the headquarters of the Ministry of Investment and International Cooperation.
Minister of Investment and International Cooperation Sahar Nasr and Electricity Minister Mohamed Shaker signed an agreement with French Ambassador to Cairo Stephane Romatet and Director of the French Agency for Development (AFD) in Cairo Stephanie Lanfranchi on a grant agreement to finance a technical support program in the field of energy at 1.5 million euros.
Nasr signed a simplified agreement with the two French officials for a grant of 8 million euros from the European Union for the rehabilitation project of al-Raml tram in Alexandria.
Health Minister Ahmed Emad Eddin signed with the French side the executive agreement for a grant for primary health care support amounting to 130,000 euros.
Transport Minister Hisham Arafat and the French officials signed a joint declaration for 50 million euros to support small and medium-sized enterprises of women.
The grant aims at strengthening the governance of the energy sector and maximizing the use of energy as well as improving energy supply, said Shaker.
The grant aims to promote and improve access to quality and sustainable primary health care services in five Egyptian governorates, namely Sharqiya, Daqahliya, Suez, Ismailia and Port Said, said Emad Eddin.
Arafat said that the signed agreement comes within the framework of the Egyptian government's efforts to increase the number of passengers of the tram in Alexandria, its speed and the quality of service.
He pointed out that there is an urgent need to improve transport services in Alexandria to contribute to solving the problems of congestion.
Edited translation from Al-Masry Al-Youm