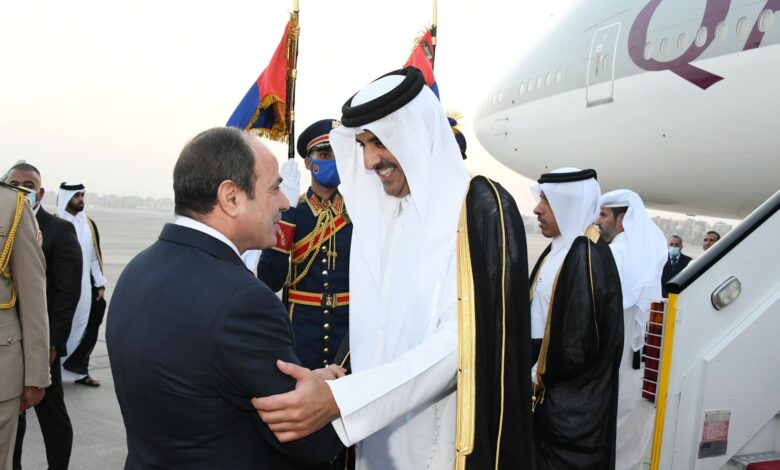 Egypt has a firm stance on Arab solidarity, unity and reconciliation as it is always keen to settle any misunderstanding or differences among Arab countries, Presidential Spokesman Bassam Rady said.
Speaking to Sada Al Balad TV channel, he reiterated on Tuesday that the Arab joint action is important to protect Arab national security and maintain regional stability.
President Abdel Fattah al-Sisi always underlines the need for enhancing the sense of belonging and boosting cooperation and closer interaction among Arab peoples, he stressed.
Rady said Sisi's current visit to Qatar comes after the visit paid by Qatari Emir Tamim bin Hamad al Thani to Egypt in June.
Both leaders are set to have a summit on Wednesday in Doha, while a meeting will be also held by the president with Qatari businessmen, he said.
Sisi had meetings over the past days with officials of global companies operating in the domains of new and renewable energy and liquefied gas, Rady said, noting that the Egyptian and Qatari leaders are set to discuss issues related to natural gas and new energy.
Sisi's visit to Doha is important as it comes ahead of the coming Arab summit in Algeria and the UN climate conference (COP27) in November, he said.
The spokesman reaffirmed that Egypt has a firm stance on settling any differences between Arab countries and works on solving any issues between Doha and Cairo positively to open new horizons of cooperation between both Arab countries.
The meeting of the Egyptian and Qatari leaders is set to touch upon issues related to energy, development, construction and agriculture, Rady added.