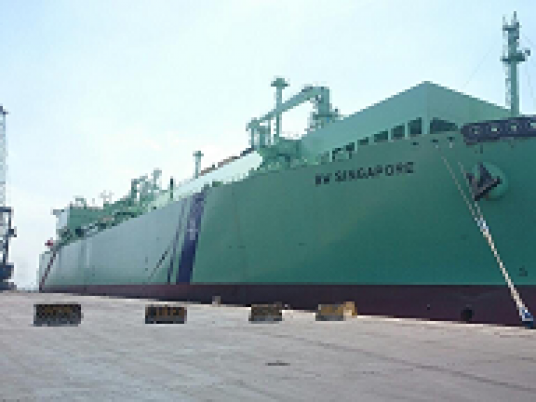 Egypt launched the world's biggest tender for liquefied natural gas (LNG) as officials from top energy companies and trading houses converged on Cairo undeterred by new rules that could force them to wait for as long as six months to get paid.
After months of speculation and delay, state-run Egypt Natural Gas Holding (EGAS) released tender documents on Sunday bidding to secure 96 LNG shipments in 2017 and 2018, participants in the tender told Reuters.
An additional 12 optional cargoes were included in the tender, which EGAS may decide not to award, they said.
At a price-tag of several billion dollars, it is the biggest mid-term LNG buy tender ever issued, trade sources said.
Egypt, a major importer of commodities from wheat to diesel, helped buoy global gas markets last year after emerging as the fastest-growing new LNG consumer.
Once an LNG exporter, Egypt turned into a net gas importer just as global spot prices plunged.
Commodity trade houses, led by Switzerland-based Trafigura , have vied to supply Egypt as the country looks to buy until giant new gas finds can be developed offshore.
But Egypt's worsening credit profile has tempered some enthusiasm as suppliers fret over payment difficulties given the country's sinking economy and shortage of U.S. dollars.
Under the latest tender terms, LNG suppliers may have to wait as long as six months to get paid for deliveries arriving between January and June 2017, according to two sources with knowledge of the matter.
Thereafter payments will take 120 days, the sources said. LNG shippers previously got paid 90 days after delivery.
EGAS was unavailable to comment despite repeated attempts by Reuters to contact the company.
At a meeting with energy suppliers this month Egypt discussed extending payment deadlines to as much as 120 and 180 days after delivery to give itself more breathing room, the sources said.
"The 180-day payment terms were something agreed in Cairo a couple of weeks ago across all products and is a sign of the current situation in Egypt," one trading source said.
Some firms may think twice about committing to large supply positions carrying credit risks, but the tender is still expected to draw large crowds given generally weak demand for LNG.
"It's a big short in a long market – I expect participation to be huge," a trade source said.
Some firms, though, were put off by EGAS' requirement for tender hopefuls to hand over $30,000 in cash in exchange for the bidding documents, two sources said. A third source confirmed the cash fee.
At the same time signs point to Egyptian gas import demand peaking as one of the country's two long-idle LNG export plants, at Idku, has tentatively resumed shipments at reduced levels.
EGAS also recently delayed a handful of LNG shipments due to arrive in the fourth-quarter until early next year, several trade sources said.