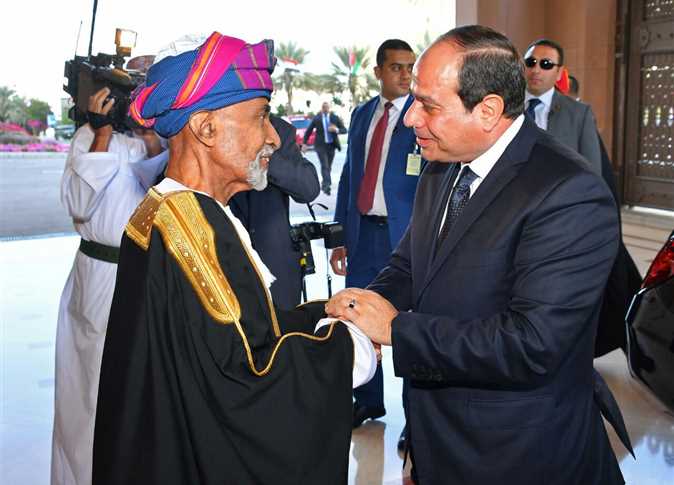 A meeting held between President Abdel Fattah al-Sisi and Oman's Deputy Prime Minister for Cabinet Affairs Fahd bin Mahmoud Al Said discussed establishing a joint investment fund to develop economic cooperation between the two countries.
Sisi stressed that the national projects implemented by Egypt offer promising and diversified investment opportunities in various fields and provide a large market for business.
During the meeting, held in the Omani capital Muscat on Monday, Said praised the steps taken by Egypt in the last period, stressing his country's keenness to further cooperation in various fields.
In a related context, Omani Minister of State for Foreign Affairs Yousef bin Alawi said that a held meeting between Sisi and Sultan Qaboos bin Said was cordial, pointing out that Oman appreciates the Egyptian president's keenness to visit Oman despite having internal concerns. He stressed that Oman-Egypt relations are clear with no obstacles or concerns.
Bin Alawi said in a statement to a press delegation accompanying the president that Sisi and Said agreed to establish a joint committee for cooperation between the two countries as soon as possible to discuss the activation of the agreements signed between the two countries.
On his part, Egypt's ambassador to Oman Mohamed Ghoneim expressed his optimism about a meeting held between Sisi and several Omani businessmen on the sidelines of his visit to the Sultanate, pointing out that a large number of Omani businessmen stressed that they were keen to meet with the president.
The ambassador added that there is direct coordination between concerned authorities in both countries regarding the study of future joint projects.
Oman's Sultan Qaboos received Egyptian President Abdel Fattah al-Sisi in the Al Alam Palace in the Omani capital Muscat on Sunday for a three-day state visit to the Sultanate.
Egyptian Ambassador Ghonaim said that the situation in Yemen will be the priority subjects of discussions between Sisi and Qaboos.
Edited translation from Al-Masry Al-Youm