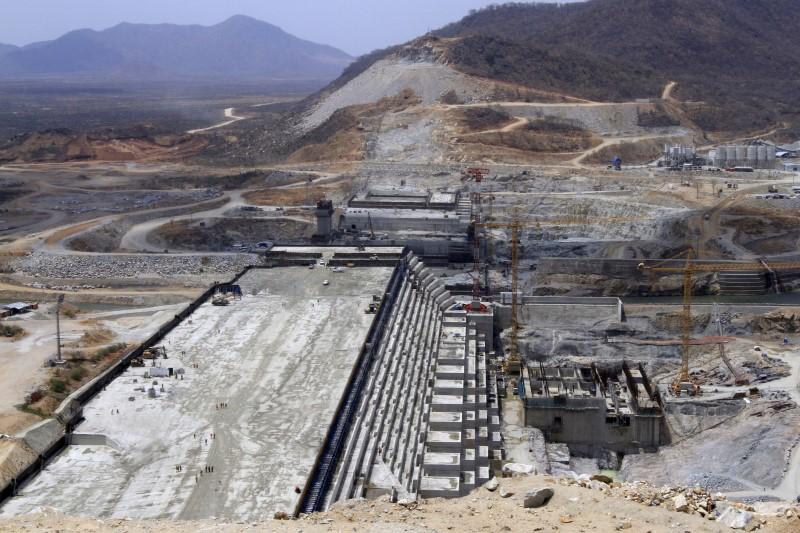 Egypt is open to consultations on the Grand Ethiopian Renaissance Dam (GERD) in order to reach an agreement that would achieve Ethiopia's development and electricity generation goals, Egyptian Foreign Minister Sameh Shoukry said.
He added that Ethiopia needs to bear through some of the negative impacts brought on by the dam's construction.
In response to a question regarding the negotiations during a joint press conference held Tuesday with his French counterpart, Jean-Yves Le Drian, Shoukry said: "Egypt has expressed on many occasions readiness to accept the mediation of any technical body that can set a framework for consensus, in accordance to scientific methods and technical studies that protect and achieve the interests of countries [involved in the Renaissance Dam conflict]."
He added that the talks held on September 15-16 between Egypt, Sudan and Ethiopia on the Renaissance Dam crisis failed because negotiations had been suspended for over a year and three months.
Egypt hoped that negotiations would start again to address pending issues with transparency without any attempt to impose the will of one party on the other or to block proposals, in order to reach consensus at the end, he said. Egypt also hopes the negotiations will serve the interests of the three countries equally, and allow them to take advantage of development opportunities while protecting the interests of the two downstream countries, Shoukry said.
"The agreement is achievable if there is real political will to reach an agreement," Shoukry mentioned.
Shoukry said he hoped the meetings would be fruitful, and not a waste of time.
The GERD meeting, which concluded on Monday evening, failed to address the dam's technical aspects due to Ethiopia's refusal to discuss Egypt's proposal towards Ethiopia and Sudan, Egypt's Ministry of Water Resources and Irrigation said in a statement.
In light of this stumble, the statement said an urgent meeting of the independent scientific group was set in Khartoum at the end of September to discuss Egypt's proposal on filling and operating the Renaissance Dam, as well as Ethiopia and Sudan's own proposals in this regard.
The ministers of water resources from the three countries will convene on October 4-5 to approve the rules of filling and operating the Renaissance Dam.
Edited translation from Al-Masry Al-Youm