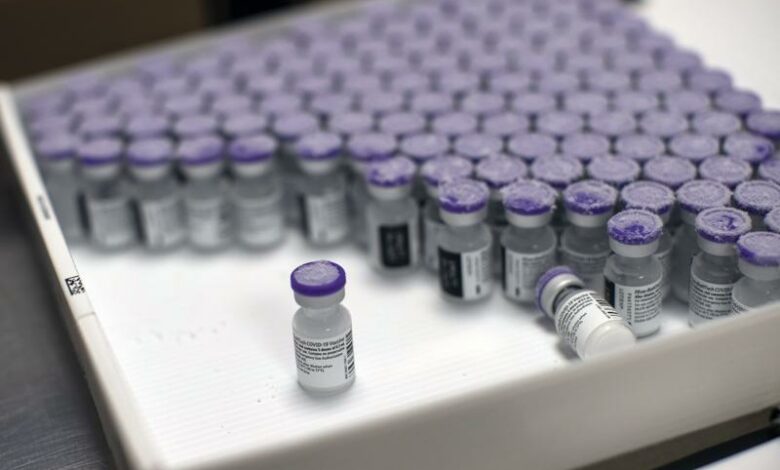 The Chargé d'Affairs of the US Ambassador to Cairo Nicole Shampaine and Egypt's Assistant Minister of Health Mohamed Hassany, welcomed the arrival of the first shipment of 1.6 million Pfizer coronavirus vaccine of doses to Cairo, the first shipment of several to come.
This comes by a direct donation from the US to Egypt through the COVAX Initiative, according to a statement from the US embassy on Thursday.
"I am delighted to welcome this vaccine shipment, a direct donation of 1.6 million doses of Pfizer from the people of the United States to the people of Egypt.  Our governments and people have been working side-by-side, every day, to fight Coronavirus.  At the outset of the pandemic, Egypt sent medical supplies to the United States.  In August of 2020, the United States sent 250 ventilators to Egypt.  Today's vaccine donation underscores our continuing commitment to support Egypt through this global health crisis," Shampaine said during the ceremony, which was also attended by partners from Pfizer, the World Health Organization and UNICEF.
The US is cooperating with Egypt to combat the pandemic on a large scale, through the US Agency for International Developmen, which has provided over US$50 million to support Egypt's response to the coronavirus and helped grant essential health and economic support services to nearly 18 million people.
The USAID programs train health care workers, improve pandemic tracking and response, provide food assistance to pandemic-affected families and support small businesses.
This support comes in addition to more than one billion dollars in US government investment over the past 40 years in the health sector in Egypt, according to the statement.
Thursday's shipment follows on the heels of nearly 4.7 million doses of coronavirus vaccine donated by the US and partner countries to Egypt through the COVAX initiative, bringing the total donations so far to more than six million doses.
Pfizer doses will be quickly dispatched to Health Ministry facilities in Cairo, Port Said, Daqahliya, Beheira, Luxor and Assiut, and will be stored in UNICEF-funded ultra-cold storage equipment.