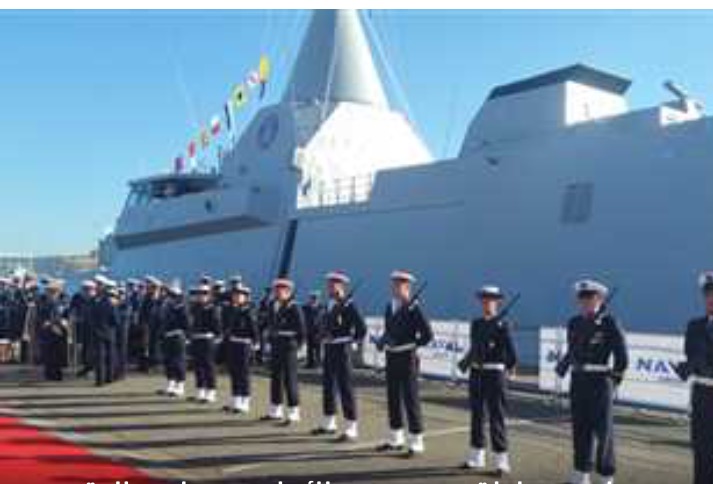 The Egyptian armed forces received the first Al-Fateh frigate of the Gowind type in a major ceremony held at the port of Lorion, France.
Commander in Chief of the Egyptian Navy Ahmed Khaled, and a delegation of armed forces commanders attended the ceremony.
The deal was part of several armament deals Egypt signed with France. The new frigate will be led by a number of Egyptian naval officers who have been trained with the French side.
The ceremony began with the arrival of Khaled to the venue.
The Egyptian crew, which was trained recently, lined up before al-Fateh frigate with the Egyptian flag raised on it. Khaled then delivered a speech that stressed the depth of the relations and cooperation between the two countries.
It was followed by a speech by the armed forces commander in which the depth of the relations of cooperation between the two countries in many fields were lauded.
The new frigate is capable of sailing 4,000 nautical miles, with a total clearance of 2,540 tons. It has the capability to carry out all combat missions in the sea, including the search for and destruction of submarines, the use of rockets and artillery in combat missions and the task of securing maritime transport lines and guarding convoys and ships. It backs the coastline forces as well in attack and defensive operations thus protecting regional and economic waters and Egyptian national security.
Khaled transferred the greetings of President Abdel Fattah al-Sisi and Defense Minister Sidqi Sobhi to Admiral Christophe Prazuck, France's Marine Nationale's Chief of Navy.
The armed forces are keen to implement a comprehensive strategy for the development and modernization of the naval fleet to enhance security and stability and to meet the current challenges and risks in the region, said Khaled.
The new frigate is the most advanced in the Egyptian navy to enhance its ability to achieve maritime security, and to be a deterrent force for achieving peace, providing free and safe maritime navigation, and support the security of the Suez Canal as an important international maritime trade path, he added.
He stressed the Egyptian leadership's pride in the depth and strength of the Egyptian-French relations and the convergence of views on many international issues as part of the two countries' efforts to achieve peace for all peoples and to combat the phenomena of terrorism and illegal migration.
Several modern marine units, the last of which were two Mistral helicopters, the frigate "Long Live Egypt," and a number of advanced rocket launchers and submarines, have recently joined the Egyptian Navy as part of a development plan, said Ahmed.
Development was not limited to introducing modern units only, but was extended to include manufacturing technology and construction, according to Khaled who said that Egypt was currently manufacturing the first Gowind frigate in Alexandria's armory.
http://https://youtu.be/49rJmOvHFRs
Edited translation from Al-Masry Al-Youm