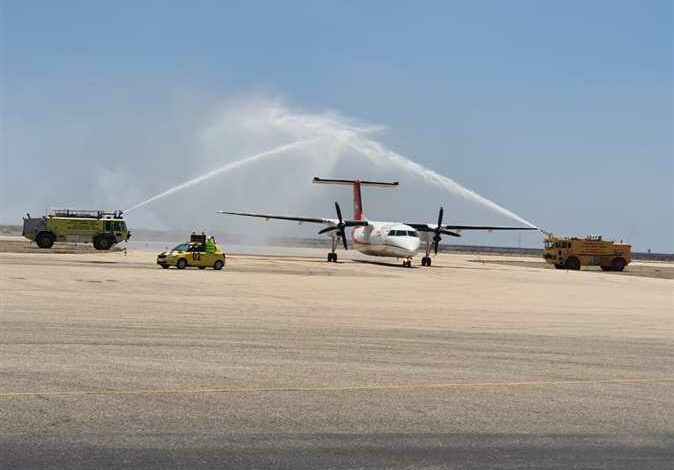 Port Said Airport resumed operations on Saturday after a six-year hiatus, having received its first domestic flight from the Petroleum Services Company coming from Cairo with 50 passengers, and heading for another flight from Port Said Airport to Sharm el-Sheikh Airport.
The Port Said Airport serves the governorates of the Suez Canal region, which are of great tourist and economic importance.
The reception was attended by Port Said Governor Adel al-Ghadban, the Chairman of the Board of Directors of the Egyptian Airports Company Ahmed Mansour, and Airport Director Hisham el-Desouky.
The plane was greeted by spraying water on it, an international tradition to welcome the first flight, while the airport's public relations team greeted the passengers with flowers and chocolates.
The arrival procedures were completed easily and smoothly, with all precautionary and preventive measures implemented to combat the coronavirus.
Civil Aviation Minister Mohamed Manar stressed that restarting Port Said Airport will achieve several promising economic gains for the aviation sector, due to the airport's distinguished geographical location, where it serves the people of Port Said, the Suez Canal region and Damietta.
He added that the airport contributes to advancing investment in the Suez Canal axis, which is one of the most important commercial centers in the Middle East and Africa.
The Civil Aviation Ministry places the revitalization of domestic and foreign tourism on top of its priorities, via orders from the Egyptian state, he said.
And he added that the Civil Aviation Ministry is working to provide support to private Egyptian companies and overcoming all obstacles and difficulties.
Domestic flights will be operated from Port Said Airport to Sharm el-Sheikh, Taba, Marsa Alam and Eastern Europe.