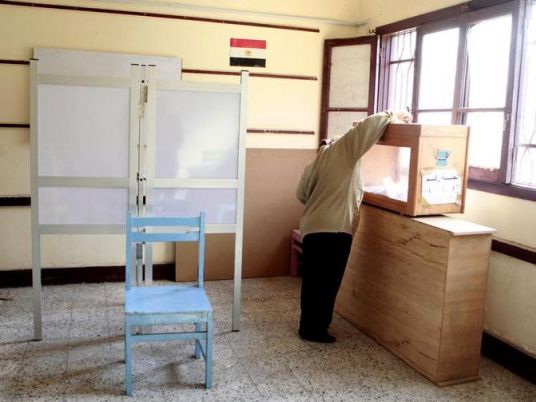 Next week's parliamentary elections are supposed to move Egypt closer to democracy and end a situation in which Abdel Fattah al-Sisi, first as the country's strongman then as an elected president, has governed for more than two years with few apparent checks and balances.
But with almost no effective opposition expected to run or make a mark, critics and analysts say the 596-seat legislature will be little more than a rubber stamp, leaving the former military chief free to power ahead with a high-octane, one-man campaign to revive the economy and influence the region while curbing opposition at home.
The staggered vote, starting next week and continuing through December, will give Egypt its first elected legislature in more than three years. The resulting chamber will also signal the completion of the third and final stage of a political road map announced by al-Sisi himself when, as military chief, he led the July 2013 ouster of the nation's first freely elected president, the Islamist Mohammed Morsi, following a wave of mass protests against Morsi's rule.
Ironically, the next parliament will be the first elected after the adoption last year of a new constitution, arguably the most liberal Egypt has ever had, which empowers lawmakers, albeit under stringent conditions, to impeach the president, call for early presidential elections or withdraw confidence from the prime minister or individual members of his Cabinet.
Al-Sisi's democratic credentials have been the topic of much debate and a quiescent parliament will harken back to the 29-year rule of autocrat Hosni Mubarak, ousted in a popular uprising in 2011, when his National Democratic Party dominated the legislature — with election after election tainted with rigging, vote buying and police interference.
Such a compliant chamber will confirm what the popular al-Sisi has been trying to dismiss as untrue: that he is essentially an authoritarian leader not comfortable with criticism, who wants everyone to rally behind him in the name of a stable and prosperous Egypt and uses influential media figures to drum support for his policies and demonize critics.
None of the key liberal figures that helped fuel the 2011 uprising, like Nobel Peace laureate Mohamed ElBaradei or former presidential candidate Hamdeen Sabahi, are running in next week's election. In the face of the government's crackdown and curbed freedoms, lesser known pro-democracy activists who burst on the political scene in 2011 have either sought exile abroad, withdrawn from public politics or are jailed for opposing Sissi's government.
On the other hand, those running from the pro-Sissi camp include famous TV anchorman Ahmed Moussa, who this week on his show aired scenes from a war video game that he mistakenly presented as aerial nighttime footage of Russian airstrikes in Syria. Also running is Abdel-Raheem Ali, who has used his TV show to air recordings of romantic or personal telephone conversations by rights activists with the intention of casting them as morally loose or agents paid by foreign powers.
"The next parliament will assume a very important and grave responsibility," al-Sisi said in his most recent public comments, a 45-minute speech on October 6 to mark the 42nd anniversary of Egypt's last war with Israel. "I am urging you, not just to go out and vote, but to carefully choose those in whose hands you will entrust Egypt's presence and future."
Already, dozens of former NDP members are running in the forthcoming election, with their connections, wealth and government-aligned business interests likely to secure seats. Even the ultra-conservative Islamist al-Nour party is running, mostly in the hope it will give the electoral process the appearance of inclusion and partially as a reward for its support for the ouster of Morsi and his now-banned Muslim Brotherhood.
"It (parliament) may serve as a valve," said Shadi Hamid, senior fellow at the Brookings Institution's Center for Middle East Policy.
Hamid predicted that the next parliament will be, "a place for people to vent a little, while telling the international community Egypt is making progress and allowing opposition, which is what Mubarak did."
Analysts and observers say al-Sisi has made sure that the next parliament will be subservient to his will so that he can press ahead with his policies — notably reforming the economy and crushing an Islamist insurgency — without the distraction of serious political opposition.
Under a new election law he decreed last year, 448 of the house's seats will be contested by "individuals" — or candidates not linked to any political group, a system that, critics say, will favor wealthy government-connected businessmen and powerbrokers with strong local patronage networks, in what is essentially a repeat of the Mubarak-era model. Only 120 lawmakers will be elected on party lists, while al-Sisi will appoint 28 others, bolstering support for his rule in the chamber.
The election, moreover, will be held amid a climate of fear not seen in decades and a tightly controlled public sphere.
Backed by a population longing for stability and peace after the chaos and bloodshed that followed Mubarak's ouster, authorities have gradually shown less and less tolerance for dissent since Morsi's ouster. Security forces have since killed hundreds of Islamists in a series of deadly clashes in the summer of 2013 and jailed thousands more, of whom scores have been sentenced to death after trials criticized by rights groups as flawed or hasty. Draconian restrictions on demonstrations since late 2013 have all but killed street activism of any kind. Human rights abuses by the police go mostly unpunished or even investigated and authorities have shown little concern over recent cases of young activists opposed to al-Sisi's government or linked to the Brotherhood disappearing.
"The laws were engineered to take politics out of the new parliament," said prominent columnist Abdullah Al Sennawy, who shares a widespread prediction among analysts that the election will see a low turnout. The government, he said, has "made the election completely colorless."
The 60-year-old al-Sisi has spoken vaguely of his democratic convictions, preferring instead to focus in his public comments on what he sees as the vital need for Egyptians to unite in the face of security and economic challenges. He has also emphasized what he terms the organic bond between the people and the army, in which he served for some 40 years.
A toothless parliament, however, may not be entirely beneficial for al-Sisi, whose popularity among Egyptians is easily the most vital source of support for his regime. A meek legislature will reflect negatively on him, for example, since he is seen by most Egyptians as the man in charge of just about everything. It will also confirm widespread allegations that security agencies have engineered the vote in such a way that would ensure a chamber packed with al-Sisi supporters.
Ibrahim Eissa, a prominent columnist and an outspoken critic of the government, wrote on Tuesday that al-Sisi was primarily to blame for the perceived indifference shown by voters, saying the president's repeated calls for unity and a unified party list have "killed politics and competition."
Writing in the Tuesday edition of the daily Al-Maqal, Eissa, who strongly supported al-Sisi's ousting of Morsi and purging of the Muslim Brotherhood, wrote, "The notion has reached the people that the (outcome of this) election is a foregone conclusion and that its objective is to aid, support or show solidarity with the president."