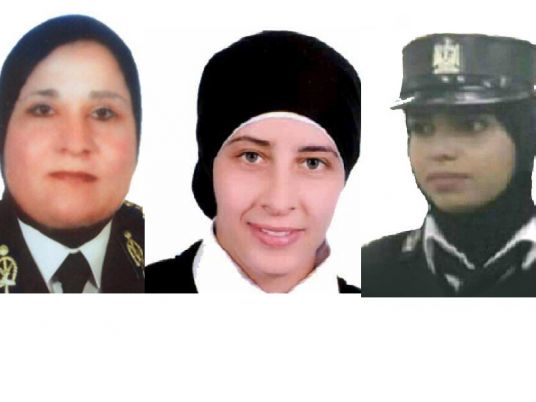 For the first time in Egyptian police history, the list of the victims of Egypt's Palm Sunday blasts included three female policewomen, one officer and two low-ranking personnel, who died in the line of duty while checking security at the main gate of the St. Mark's church in Alexandria.
The three victims are General Nagwa Abdelaal Al-Haggar and two low ranking personnel, Omnia Roshdy and Asmaa Ibrahim Hussien.
The three of them were appointed to check the ladies who enter the church. While the suicide bomber attempted to get into the church from an uncheced gate, he was asked by the security forces to get into the X-ray device; instead, he returned and blew himself up at the main gate, only a few centimeters away from the female police personel.
Al-Haggar is a police general, 53-year-old; she graduated in 1987 and then worked at the Ministry of the Interior at the Work Permits department, along with other security work at churches in the Al-Raml neighborhood in Alexandiria, during Copts holidays and Christmas celebrations.
In a tragic terrorist attack in 2014 in Marsa Matrouh, she lost one of her two sons who was also an officer which was not easy for her; Al-Haggar's husband is the assistant of Al-Behaira security director.
Her husband Ezzat Abdel Qader said today during her funeral: "We don't have anything left but to pray for her, we wish that God will give us the strength and patience to bear her death."
Along with Al-Haggar there were two other female security personnel. One of them, Omnia Roshdy, is a young lady who was appointed to secure the cathedral as a part of her job in securing churches.
Roshdy was a bride-to-be, who was preparing for her wedding that was expected to take place in one month. Before heading to the church on Sunday morning, she sent a whatsapp message to her friends saying that she wants to see them before her wedding day.
"She was one of the most dedicated women who served in the police. She loved her work and her country very much, and she insisted to continue working, even a few weeks before her wedding.. she did not ask for a vacation," her friend Safaa Ibrahim told Youm7.
Moreover, Asmaa Ahmed Ibrahim Hussien was one of the victims of the deadly bombing attack in Alexandria's St Mark church; she is a mother of two children, Sandi and Rodina, who is a newborn. Hussein was at the main gate checking the ladies who enter the church.
Hussien's closeness to the suicide bomber made her body parts difficult to recognize until her husband knew it was her from her underwear.