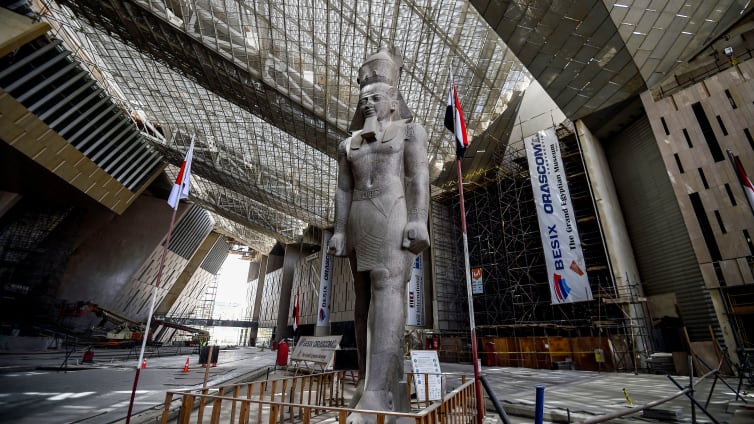 The Ministry of Tourism and Antiquities announced Friday that it is working with the management of the Grand Egyptian Museum (GEM) project, and the National Center for Housing and Building Research, to accredit all GEM buildings as green buildings to provide environmental, economic and cultural sustainability, to become the first green museum in Egypt.
The general supervisor of GEM project, Atef Moftah, said that during the current period, all aspects of green building and sustainable development are being integrated into the museum project, including obtaining green building certificates, in line with its cultural value as being one of the most important and largest museums in the world.
The effort of accrediting GEM as a green museum and obtaining the Green Pyramid certificate requires the application of conditions and specifications that must be met in the museum buildings, he said, which is currently underway.
He explained that these specifications include the services provided to the public are studied, such as transportation and ease of access to the museum, the creation of dedicated bike paths and parking lots, the use of electric cars, and raising the efficiency of water and energy consumption inside the museum by reusing water and reducing its consumption, especially those used in agriculture, reducing various heat and use renewable energy sources.
Adopting the museum as a green building will include ways of managing it and the quality of the internal environment by improving ventilation performance and using natural ventilation, he said, alongside air flow calculations that must comply with the minimum required ventilation rates.
Egyptian President Abdel Fattah al-Sisi ordered in November that all equipment of the GEM be brought out to its fullest potential in terms of engineering and archaeology, and called on utilizing the latest technology to protect the museum.
Constructed on an area of approximately 500,000 square meters, the GEM is located just two kilometers from the pyramids of Giza, and will house the world's largest antiquities collection belonging to a single culture's heritage.
The GEM is set to showcase 5,000 relics from Tutankhamun's collection as well — including 2,000 artifacts that will be displayed for the first time.
Edited translation from Al-Masry Al-Youm