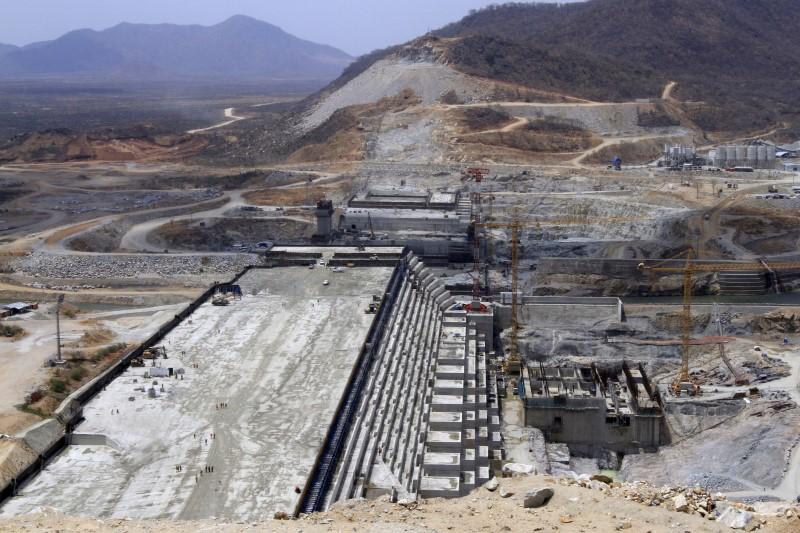 Egyptian Foreign Minister Sameh Shoukry and Minister of Water Resources and Irrigation Mohamed Abdel Aaty stressed on Tuesday the importance of negotiating in good faith and maintaining transparency during ongoing talks between Egypt, Sudan and Ethiopia on the contentious Grand Ethiopian Renaissance Dam (GERD).
The comment came in a press release issued on Tuesday by the three countries currently negotiating the details surrounding operating and filling the GERD, alongside the United States and officials from the World Bank, following meetings held in Washington on Monday, which were held at the invitation of US Treasury Secretary Stephen Mnuchin in the presence of World Bank President David Malpass.
The statement referred to bilateral meetings held between Mnuchin and the foreign and irrigation ministers of Egypt, Sudan and Ethiopia, which were followed by an expanded discussion allowing the three parties to voice their concerns and points of view. 
The joint statement also outlined  the issues that must be addressed before an agreement can be reached on filling and operating the dam, with Egypt, Sudan and Ethiopia aiming to reach a final agreement on the GERD before January 15th, 2020. 
For its part, Egypt stressed the importance of operating in good faith and maintaining transparency in order to ensure the full implementation of the Declaration of Principles Agreement concluded on March 23, 2015, and ensure that Ethiopia's electricity needs are met without threatening the supply of water in Egypt. 
The Egyptian side also expressed appreciation for the US role in the ongoing GERD talks, thanking Mnuchin and his team for their efforts to push the negotiation process forward in the interest of reaching a fair and balances agreement on the GERD.  
Earlier in October, Egypt's Water Resources and Irrigation Ministry said that negotiations with Ethiopia had reached a dead end after the two sides failed to arrive to an agreement on filling the GERD.
The Egyptian government blamed the failure of the talks on obstacles from the Ethiopian side.
Egypt has voiced its concerns that the dam could negatively impact its water supply since construction began, while Ethiopia maintains that the GERD is critical to boosting the nation's economy and saving energy.
Egypt depends on the Nile for over 95 percent of its water needs, according to Abdel Aaty, and the decline of Nile water levels by only 2 percent would impact one million people.
Edited translation from Al-Masry Al-Youm