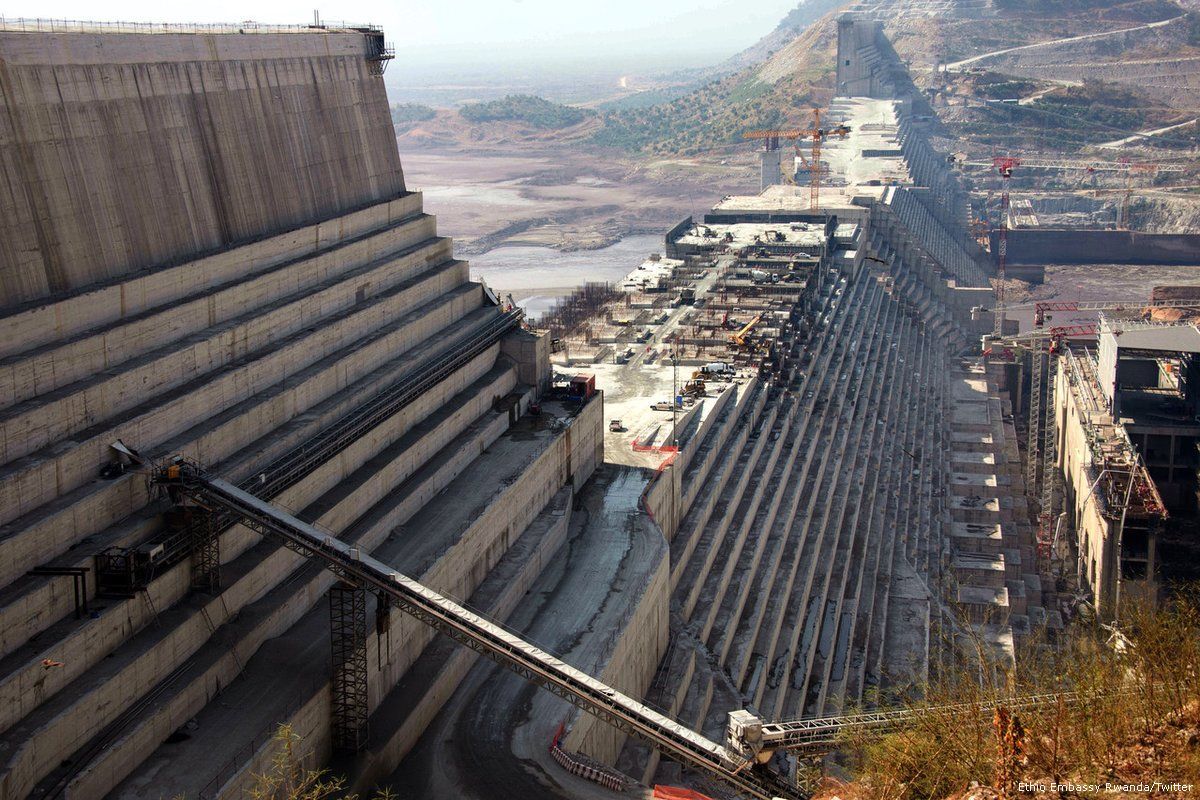 Ethiopia must take into account the interests of my downstream countries so that there is no severe or serious harm to them from the Grand Ethiopian Renaissance Dam (GERD) filling, Egypt's Foreign Minister, Sameh Shoukry, adding that Egypt will defend its interests and its people.
This is in case Ethiopia does not take downstream countries' interests into consideration.
Negotiations that took place between Egypt, Ethiopia and Sudan over the past decade did not come to an amicable fruition, Shoukry said, in a press conference with his Kenyan counterpart, on Thursday.
"Egypt always seeks at binding a legal agreement that regulates the process of filling and operating the Renaissance Dam, in a way that guarantees development for Ethiopia and that no serious harm will occur to any of the two downstream countries," Shoukry added.
There are long negotiations and visions about how to manage this file, consistent with the rules of international law and relying on the help of many parties, including the US and the AU as well as the experiences of other countries, he continued.
Egypt has engaged in negotiations under African auspices that have not borne fruit, and with the continuation of building the dam and embarking on the fourth unilateral filling, there has become a need for Ethiopia to take responsibility in the measures it takes, he said.
"We continue to seek an agreement if there is real political will," he added.
Over the past years, reaching an agreement has failed despite all the positive theses and the flexibility shown by Egypt, leading to doubts about a real political will to reach an agreement, Shoukry stated.
Egypt's water resources have become unable to meet the needs of its population despite following a policy to rationalize consumption, through the frequent reuse of agricultural irrigation water that made the overall efficiency rate of its use in Egypt one of the highest rates in Africa.
The Ethiopian government announced on August 11, 2022, that it has completed the third GERD filling unilaterally.
It announced the operation of the second turbine in GERD to generate electric power, which comes in light of the tension between Addis Ababa and Egypt, Sudan due to what the two countries consider a negative impact of the dam on their water shares of the Nile River.
Egypt and Sudan say they want a legally binding agreement on operating the dam, while Ethiopia says any pact should be advisory.
Both countries consider the dam a threat to their vital water supplies, while Ethiopia considers it essential for development and doubling its electricity production.
The downstream nations fear possible blows to water facilities, agricultural land, and overall availability of Nile water.
Stagnant talks
Negotiations over the dam between Egypt, Ethiopia, and Sudan have stalled for years, with the three parties ultimately failing to reach any agreements.
The disputed dam is the largest hydroelectric project in Africa, with a cost of more than four billion dollars.