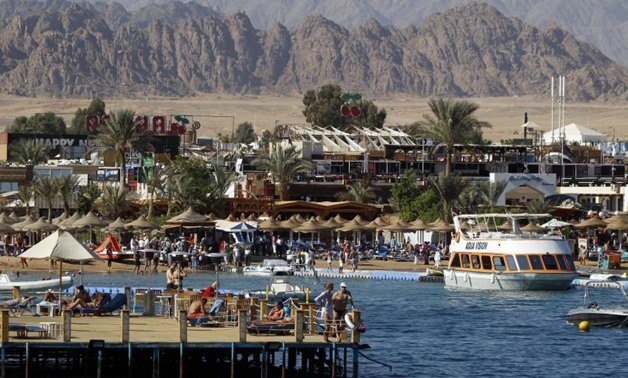 British tourism company Thomas Cook announced on Sunday that 500,000 tourists will be visiting Egypt in 2018.
Thomas Cook is a major British tourism company formed in 2007. The group owns a number of tour operators, as well as airlines based in the United Kingdom, Germany, Belgium and Scandinavia. Blue Sky Travel acts as Thomas Cook's agent within Egypt.
Blue Sky's chairman, Moody al-Shaer, Thomas Cook's Egyptian agent, announced the company has already experienced a 50 percent surge in bookings during the first half of 2018, particularly to Red Sea destinations such as Hurghada and Marsa Alam.
Sharm Al-Sheikh also recently experienced an increase in German tourism.
The announcement comes as no surprise, as reports have suggested a rise in British tourism to Egypt. International travel agencies have also forecasted a promising surge in tourists from the United Kingdom, stating that the number of bookings and flights has witnessed a significant increase during 2018.
Statistics indicated that Egypt received 730,000 tourists in February 2018, a 35 percent increase compared to the same month in 2017. Then in April, Thomas Cook announced British tourism in Egypt had taken an 89 percent hike in 2018 compared to the previous year.
In addition, a report released by the Central Agency for Public Mobilization and Statistics (CAPMAS) showed that Britons ranked sixth in the number of tourists visiting Egypt, with at least 26,338 arriving in January.
Speaking to Al-Shorouk newspaper, Shaer said that while the German market still ranks first in the number of tourists visiting Hurghada and Marsa Alam, an increasing amount of British tourists are visiting Hurghada.
British ambassador to Cairo John Cassin stated in February that British tourists to Egypt are beginning to return in large numbers. In early 2018, Thomas Cook announced the launch of direct flights from the East Midlands Airport to Egypt while also declaring a larger number of flights planned for the year, Cassin said.
The ambassador previously said at the end of 2017 that Thomas Cook will be resuming flights to the Egyptian city of Marsa Alam in order to accommodate "growing British demand" for Egyptian holidays.
Thomas Cook's suspension of flights to Marsa Alam had been imposed since 2008, but now the airline will operate two flights each week from Birmingham airport and London Gatwick airport.
Meanwhile, Atef Abdul Latif, Chairman of the 'Travelers' Tourism Association and a member of the Marsa Alam and South Sinai Investors Associations, said in a press statement that there are very positive signs that British tourism to Egypt in 2018 will surge, particularly in wake of strengthened relations between Egypt and Britain in trade, industry, and tourism.
The Association of British Travel Agents released its annual travel trend report in which it expected a strong return of British tourists to Egypt and Tunisia in 2018, following years of anxiety over political unrest and terrorism. The report explained that the negative effects of the last period, including flights being discontinued and travel warnings being issued, have now been overcome.
Egypt's tourism sector, a key source of foreign currency, was badly hit in the aftermath of the 2011 uprising when social unrest rocked the country. 
The UK had also imposed a travel ban on direct flights to popular tourism resort Sharm El Sheikh following the downing of a Russian passenger plane over the troubled Sinai peninsula in October 2015.