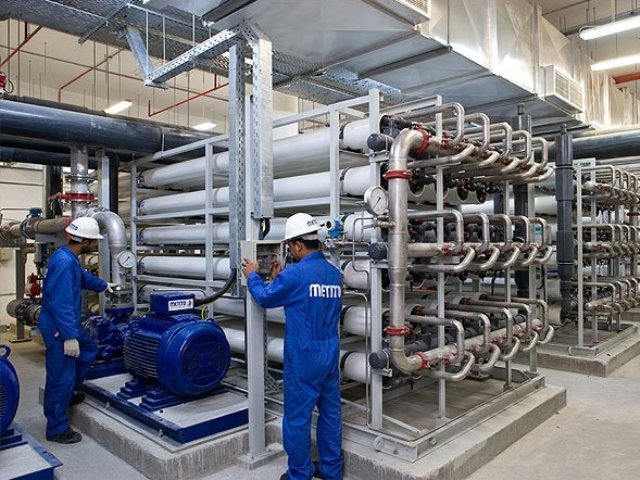 Egyptian Housing Minister Assem al-Gazzar on Sunday overviewed the ministry's plan to maximize the use of Egypt's available water resources and squeeze out the greatest benefit from every drop of water.
This plan will provide alternative sources of drinking water, he explained, such as through the expansion of seawater desalination plants.
It also aims to reduce drinking water waste through better rationalizing consumption, with Gazzar stating that the ministry plans to reduce waste from 30 percent to 20 percent alongside providing home meters and expanding the installation of prepaid meters.
He explained that the housing ministry, in cooperation with the ministries of irrigation, agriculture, investment and international cooperation, has begun implementing the two biggest projects to reuse mixed agricultural wastewater at a capacity of two billion cubic meters annually for a total cost of LE20 billion.
Gazzar added that 146 sewage treatment plants are being established throughout the country with a capacity of 5.864 million cubic meters per day, at a cost of LE29.5 billion, in addition to the completion of 59 treatment plants in Upper Egypt.
Egypt's Prime Minister Mostafa Madbouly held a meeting with the Minister of Water Resources and Irrigation Mohamed Abdel Atty back in October 2019 to discuss the drinking water shortage crisis and the importance of modern irrigation systems, which provide water to one million acres as part of the country's efforts toward improving drinking water access.
The available amount of fresh water resources has reached around 60 billion cubic meters per a year, and the Nile River forms the main source of renewable fresh water, while the amount of water used by various sectors in the country has reached around 80 billion cubic meters per a year, forming a gap between water resources and uses estimated at 20 billion cubic meters per year, Abdel Atty clarified during the meeting.
The country reuses agricultural drainage water, sewage water, shallow groundwater, and desalinated seawater to solve the water shortage crisis, the minister noted.