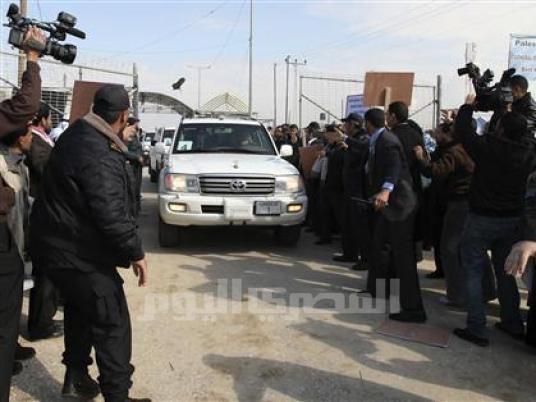 Jama'a al-Islamiya's Construction and Development Party is issuing a call to protest outside the Myanmar Embassy in Zamalek Friday to highlight the plight of minority Muslims in that country.
Several activists and revolutionary group representatives also said they would take part.
Mohamed Fayyad, general coordinator of the I'm Egyptian front, said protesters would demand that Egypt expel the Myanmar ambassador "because we're a Muslim state and that country violated the rights of Muslims there. Myanmar's ambassadors should be expelled from all countries because they violate human rights."
Violence flared in Myanmar's Western Rakhine state in June as tension between Rakhine Buddhists and Rohingya Muslims escalated. Egyptians have staged several protests at the embassy in Cairo against the killing of Muslims.
The Rohingya, a Muslim people of South Asian descent, are facing what has been called one of the worst instances of sectarian violence in the recent history of Burma, a Buddhist majority country.
Myanmar's National Human Rights Commission said on 11 July that at least 78 people have been killed since the violence began, but unofficial estimates exceed 100.
Fayyad also told Al-Masry Al-Youm that "what's happening is oppression against Muslims all over the world and an attempt to smear the image of Islam … "
The violence has affected both the Buddhist and Muslim groups, but rights organizations have accused police and troops of disproportionate use of force and arrests of Rohingyas in the wake of the riots, according to Reuters.
Montasser al-Nouby, general coordinator of the 25January Revolution Youth Coalition, said his group is coordinating with Jama'a al-Islamiya and called on other groups to participate. He described the situation in Myanmar as inhuman.
A number of Rohingyas have tried to flee Burma for the neighboring country of Bangladesh, but most have been refused entry.
The Organization of Islamic Cooperation, a group of 57 member states, earlier this week urged Muslims around the world to give political, humanitarian and financial aid to the victims of violence in northwest Myanmar, according to Reuters.
"This is a large humanitarian crisis but unfortunately the international and Muslim communities are mostly unaware of the dimensions," Secretary General Ekmeleddin Ihsanoglu told a news conference on Tuesday.
"In this holy month I call upon all the Muslims … to extend aid for this issue," Reuters quoted him as saying.
Edited translation from Al-Masry Al-Youm