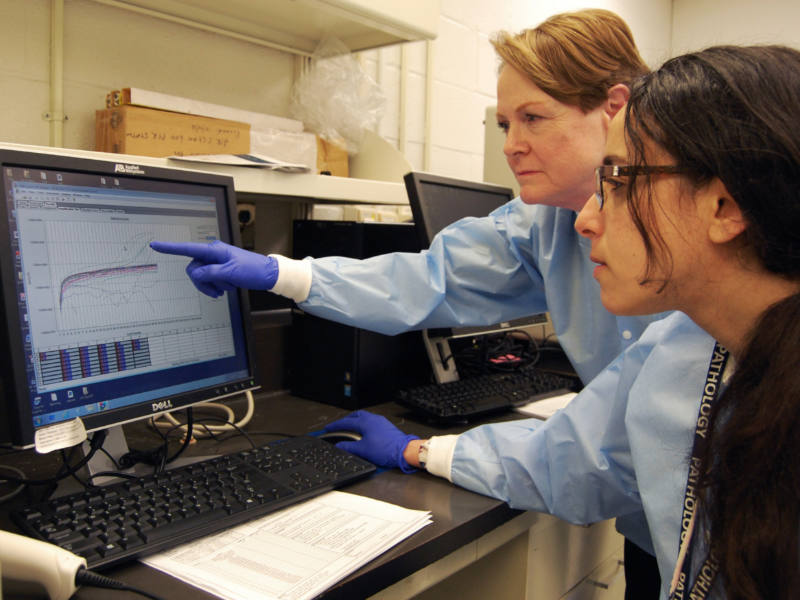 Johns Hopkins University has made a breakthrough that would allow testing 1,000 people for the novel coronavirus (COVID-19) per day, reducing pressure on laboratories and allowing governments to better isolate those infected with the respiratory illness and control its spread. 
Two specialists in microbiology developed the new test, one of whom is Egyptian-American doctor Heba Mostafa.
"We will be able to diagnose more cases. This will allow the control of exposure," said Mostafa, who is currently an assistant professor of pathology at Johns Hopkins University and director of the molecular virology laboratory at The Johns Hopkins Hospital.
"Johns Hopkins clinical microbiologists Karen Carroll, M.D., and Heba Mostafa, M.B.B.Ch., Ph.D., have developed an in-house coronavirus screening test that may soon allow the health system to test as many as 1,000 people per day," John Hopkins' official website read.
The test, which Johns Hopkins used for the first time on March 11, analyzes a nasal or oral swabs, and Johns Hopkins hopes it will help to address the need for wider COVID-19 testing. 
The World Health Organization has stressed that large-scale testing, isolation of confirmed cases, and efforts to trace those who have come in contact with confirmed cases remain the most important methods of containing the coronavirus outbreak.
Around 85 tests were conducted in the first three days, according to the university's website.
"Capacity is expected to ramp up quickly, reaching 180 people per day next week and 500 the week after that," Mostafa commented, adding that testing could reach 1,000 people per day in April.
Conducting internal tests reduces the burden on government laboratories, with the test results coming up in about 24 hours. Doctors hope to shorten this period to about three hours.
On February 29, the US Food and Drug Administration started allowing academic medical centers to develop their own tests for the coronavirus.
More than 8,700 cases and around 150 deaths have been confirmed so far in the United States.
Worldwide, COVID-19 has infected over 200,000 people, with upwards of 8,700 having died from complications of the virus.
Edited translation from Al-Masry Al-Youm
Image: Heba Mostafa (front) and Karen Carroll developed a test to diagnose COVID-19