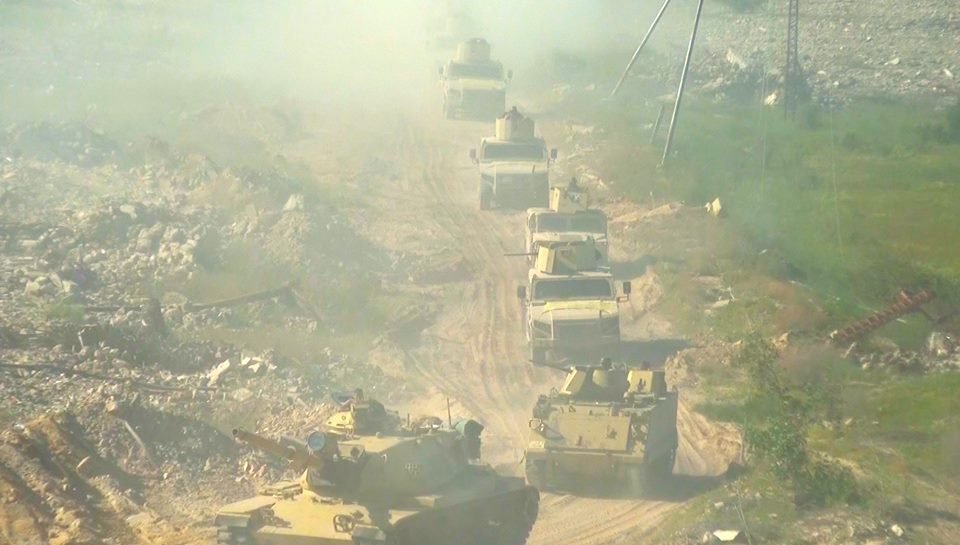 General Command of the Egyptian Armed Forces announced on Tuesday the elimination of 59 takfiris who were found carrying different types of guns, improvised explosive devices, and an explosive belt in the Sinai Peninsula over the past period.
The General Command said in a statement Tuesday that 142 criminal and suspects have also been arrested and are being prosecuted.
The statement said that 15 vehicles, and 43 motorcycles without metal plates belonging to terrorist elements were seized, destroyed and confiscated during the raiding operations.
The statement added that the Air Force also targeted and destroyed 56 four-wheel vehicles used by the Takfiris, in addition to the destruction of two hideouts.
The statement pointed to the discovery and destruction of a number of shelters and caches to housing the terrorists. Inside they found food supplies, weapons and ammunition of different kinds and spare car parts.
The Military Engineers corps discovered and dismantled 242 explosive devices that were planted to target raid forces on the roads in operation areas.
The Border Guard seized 104 different types of guns and 250 bullets, 2,666 kg of cannabis, 6,826 kg of marijuana, 43 kg of heroin and opium, and 2.5 million narcotic tablets.
The Border Guard also seized 85 vehicles and six motorcycles used in smuggling, and in cooperation with the military engineers in North discovered and destroyed six tunnels.
As a result of the combat operations, an officer and six soldiers were killed during the clashes and the clearing of terrorist strongholds. The armed forces and the police continue stress their efforts to eradicate the roots of terrorism to protect the people of Egypt.
Edited translation from Al-Masry Al-Youm