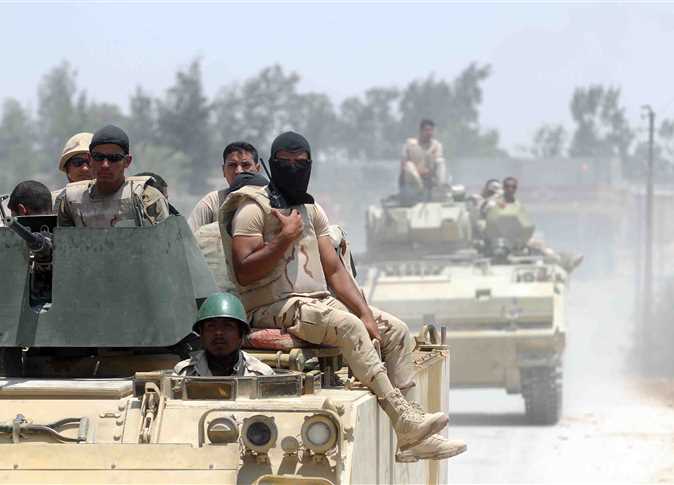 The Egyptian army announced on Sunday that it had killed 89 top terrorists in North Sinai recently, without specifying a date.
It also announced that eight armed forces members were either killed or wounded during the same period.
A statement from the General Command of the Egyptian Armed Forces read: "In the framework of ongoing efforts to pursue and defeat terrorists on all strategic directions of the country and during the previous period, the heroes of the armed forces succeeded in directing successive strikes to terrorists and carrying out a number of qualitative operations."
The statement added that the operations "resulted in the killing of 89 very dangerous takfiri terrorists in the areas of operations in North Sinai." It continued, "As a result of the valiant combat actions of our armed forces in the areas of operations, eight heroes of the armed forces were martyred and wounded."
The Egyptian army also announced that it had seized 73 automatic rifles, 140 magazines, 5,606 bullets, 34 radios and a drone equipped with a camera and night vision device, in addition to a laptop, mobile phones and money. The forces discovered and destroyed 404 explosive devices on axes and main roads, as well as four explosive belts.
The Egyptian army added that "the border guard, in cooperation with military engineers, succeeded in discovering and destroying 13 tunnel openings used by terrorists to infiltrate North Sinai."
The army also announced that the air force, directed preemptive strikes against terrorists along Egypt's western border with Libya, which resulted in the destruction of 200 four-wheel drive vehicles, some of which were loaded with weapons and ammunition.
The Egyptian army concluded its statement by emphasizing its determination to uproot what remains of terrorism and extremism in Egypt.