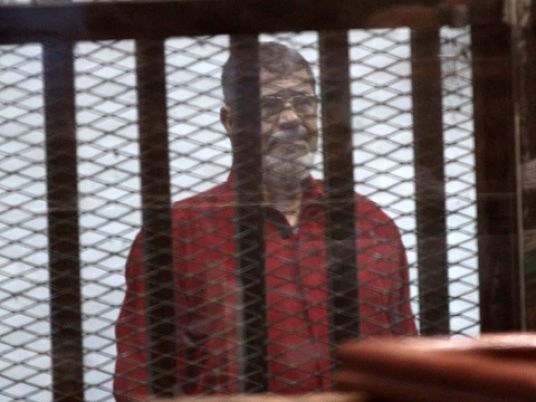 An Egyptian court confirmed a 20-year prison sentence for former president Mohamed Morsi on Saturday, judicial sources told Reuters.
It is the first final verdict against Morsi on charges arising from the killing of protesters during demonstrations in 2012, in a case known as "Ettehadiya Incidents".
Morsi, Egypt's first democratically elected president, faces charges in other cases including leaking secrets to Qatar, conspiring with the Palestinian militant group Hamas to destabilize Egypt, and organizing a jailbreak during the 2011 uprising against Hosni Mubarak.
In its ruling on Saturday, the Court of Cassation turned down appeals from nine defendants in the case, Morsy being one of them. Of the nine, seven had previously been sentenced to 20 years in prison, and two sentenced to 10 years.
The defendants are accused of murder and incitement to kill demonstrators in front of the Ittihadiya Presidential Palace in December 2012. The deaths took place against the backdrop of mass demonstrations objecting to the supplementary constitutional declaration that Morsy issued in November 2012, protecting his decisions from judicial prosecution.
Among the defendants in the case are Freedom and Justice Party (FJP) leader Essam al-Erian, presidential staffer Assad Sheikha, Morsy's office chief Ahmed Abdel Aaty, and former presidential adviser Ayman Hodhod.
Leading Brotherhood officials and affiliated individuals, including deputy Supreme Guide Kairat al-Shater, Brotherhood leader Mohamed al-Beltagy and prominent preacher Wagdy Ghoneim, were also among those convicted in the case.