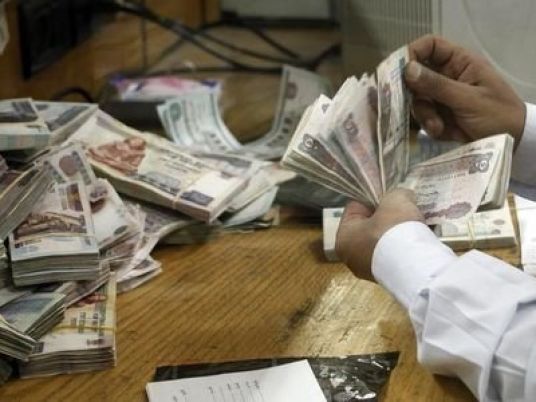 Egypt has become the victim of its own success in clamping down on the black market for foreign currency.
A central bank decision to limit deposits of dollars made into bank accounts has created winners and losers within a country which suffers from a fundamental shortage of foreign currency following four years of political upheaval.
The winner is the central bank itself, which capped hard currency bank deposits in February at $10,000 a day, up to a maximum of $50,000 a month.
Since then it has largely succeeded in drying up the black market by depriving those who exchange large amounts of dollars outside official channels of a place to keep their funds.
The loser is the army of small and medium-sized manufacturers outside the priority areas of food and energy, who have been starved of dollars they need to import raw materials and machinery. This has contributed to a dive in output from a sector which the government itself says is vital for achieving long-term economic growth.
No dollars
One businessmen to suffer is wood importer Abdel Khalek Mohamed, who has long been unable to get dollars from the official banking system. Now he doesn't have free access either to the black market, where he used to buy foreign currency. "I'm only importing about 50 percent of my needs," said Mohamed.
Dollar shortages are crippling many businesses in Mohamed's hometown of Damietta, a furniture manufacturing centre near the Mediterranean coast. Some furniture shops there have already closed down.
February's move stabilized the Egyptian pound after a sharp drop, and central bank governor Hisham Ramez proclaimed then that the black market "will end soon".
The central bank let the pound weaken again in July but has yet to eliminate the gap between the official and unofficial markets. On Tuesday it sold dollars to banks at a cut-off rate of 7.7301 pounds per dollar, whereas at exchange offices, the rate was around 8.05.
President Abdelfattah al-Sisi has promised to rebuild an economy shattered by instability since an uprising toppled autocrat Hosni Mubarak in 2011. The International Monetary Fund has praised structural and monetary reforms.
However, the currency campaign designed to boost foreign investment and generate growth gets mixed reviews from economists due to the heavy price paid by some.
"You did achieve stability in the exchange rate but you've created shortages and bottlenecks – and definitely over time if it continues, this is going to be harmful to Egypt," said Ahmed Kamaly, an economist at the American University in Cairo.
Under Sisi, a number of state economic initiatives have run into trouble and some experts believe that the anti-black market policy cannot last.
"It's not sustainable. The central bank has so far prioritised combating the black market. It is a temporary pain to cure a long-term illness," said CI Capital head economist Hany Farahat.
Before the 2011 uprising, the economy grew about 7 percent annually for several years. The rate reached 3.0 percent in the quarter ending this March, compared with 2.5 percent in the same period a year earlier, official figures showed. The 2015/2016 budget projects growth of 5 percent.
No dollars
Although the spread between the official and black market rates has widened in recent weeks, currency traders say dollar liquidity outside the banking system remains low.
Caught between the formal banking system – which prioritizes hard currency for imports of strategic items such as food and energy – and the depleted black market, are all the businesses struggling to import, slowing the country's growth.
Manufacturing output contracted almost 30 percent in June compared with the same period last year.
"Egypt has all the ingredients in place to build itself as a manufacturing hub, but it seems in the near term or at present that things aren't going in its favour with currency restrictions," said economist Jason Tuvey of Capital Economics.
Economists say there is simply not enough foreign currency flowing into Egypt. This is unlikely to change while tourism – a pillar of the economy hit by attacks staged by Islamist militants – remains weak and Egypt pays $700 million to $1 billion per month for energy imports.
"The problem won't be resolved until you fix the energy deficit," said Allen Sandeep, head of research at NAEEM Brokerage.
Egypt paid $600 million in arrears to foreign oil companies in August but still owes them $2.9 billion, the petroleum minister told Reuters on Wednesday.
Businesses improvise
Another businessman to suffer is book printer Sami Khangy. "There is no paper in Egypt anymore," said Khangy over the roar of his German-made Heidelberg printing presses, which once churned out 15 million books a year.
Stocks of imported paper have fallen so low that school books may be delayed this fall, says Khangy. "I don't know how to get paper from abroad at all nowadays," he said.
Most businesses are forced to improvise. Tyre importer Mohamed Baraka said that to get around the dollar deposit limits he has opened up multiple accounts, and uses a shell company to deposit more.
Others rely on exchange bureaux with branches in Gulf Arab countries to provide foreign currency to their suppliers abroad. Some delay payments to suppliers; contracts are cancelled.
"It's created a lack of credibility between me and the companies I do business with," said Ahmed Shiha, head of the importers' division at the Cairo Chamber of Commerce.
"We're trying to make them understand that it's not us, it's a decision imposed on us and the economic conditions of the country that led to this."