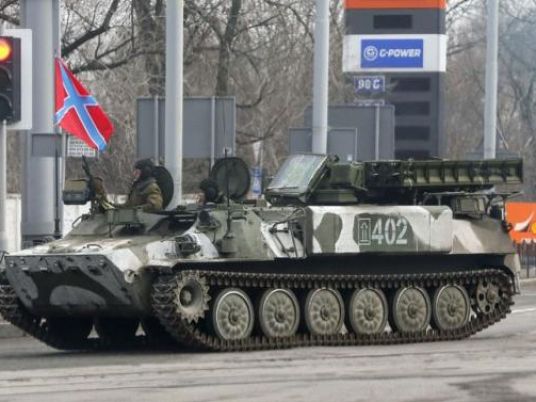 The Egyptian Embassy in Kiev issued successive statements directed to the Egyptian community in Ukraine on Friday.
"The Egyptian Embassy in Kiev calls upon the Egyptian citizens present in Ukraine not to obtain information from any sources, pages or groups, except through the embassy's official Facebook page."
Some misleading information is being circulated on a number of other pages that are not affiliated with  the embassy, it added.
The embassy stressed that it will follow up on the situation and publish information and directions to citizens on the its official page.
"Please follow the page continuously and do not pay any attention to any other information that has not been published on the official page.
Finally, we ask God the Almighty to protect all the Egyptians who are in Ukraine and that he bless them with security and safety."
In another post, the Egyptian embassy in Ukraine said, "For the citizens who are in Kharkov and the eastern cities, they are obliged to stay in their  homes or hideouts until a safe exit is negotiated for them."
"As for the citizens in the western cities who have the ability to go to the Polish borders, the Polish authorities are allowing the entry of all nationalities and have granted them a 15-day visa to return to the homeland," the statement said.
For the citizens who are in central and southern Ukraine, they should continue to stay at home until the situation calms down.
In coordination with the Egyptian Embassy in Romania, the border between Romania and Ukraine was opened, the statement said.
Due to the congestion on the Polish borders, citizens can now move in western Ukrainian cities as well, to the borders with Romania.
All citizens in the city of Kiev should not venture out of the city now because of the seriousness of the situation. 
The emergency number of the Egyptian  Embassy in Romania is +40726164978 and is to be used only  in the event of any problems on the Romanian borders.