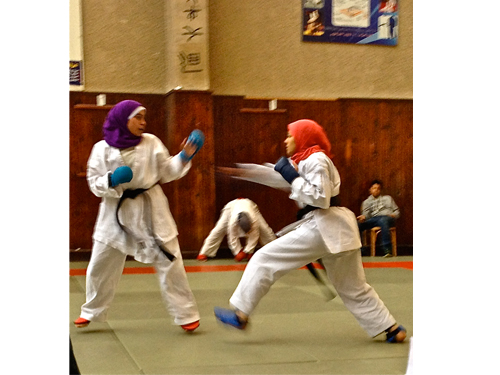 Mira Nassif, former Egyptian judo champion, master's student and small-business owner, credits judo for her current success.
"The courage to start my own design company and take all the necessary risks, starting from scratch and believing how big it could become, was totally because of the judo," says Nassif.
Like Nassif, a growing number of Egyptian women are now joining the ranks of tae kwon do, judo and karate classes and acknowledging the positive impact that training has on their lives. Indeed, such training provides not only excellent exercise but gives trainees real self-defense skills that can be applied in situations of physical or sexual assault.
Beyond this significant benefit, martial arts can also be life-changing, with benefits including increased self-confidence, discipline, focus and general character building.
It may surprise some that martial arts are popular in Egypt with both male and female athletes. These sports became widespread at private studios and sporting clubs from the 1970s onwards.
Today, there are more than 300,000 registered with the Egyptian Karate Federation, not including thousands of judo and tae kwon do athletes, and those who take private lessons.
Most martial arts are seen as appropriate for Muslim women, as the uniforms are conservative and allow women to wear hijabs. In January, the World Karate Federation approved of the use of hijabs in competition.
Egyptian women have a legacy of excellence in martial arts. They have been training and competing alongside their male counterparts on the National Karate Team since its founding in 1971, for example. Egyptian female athletes also competed in judo and tae kwon do at the Olympic Games in the first years they became medal-earning events for women, in 1992 and 2000, respectively.
Two athletes are now leading the front in changing prevailing gender stereotypes — world champion Heba Mohamed and former Africa and Mediterranean champion Shayma Magdy. They are the first female athletes in Egypt to continue intensive training on the national team after getting married.
Even more groundbreaking, Magdy is a new mother. Her father accompanies her on the training sessions, watching his granddaughter while Magdy practices attack techniques comprising powerful combination punches and kicks across the training floor.
Of course, there are often challenges that come with stepping into such traditionally male-dominated arenas. Many women and girls have been criticized but they don't let this stop them from training and fighting.
Parents of female martial artists are assured that their daughters can respond quickly to a threatening situation and use their training to defend themselves if necessary. At the age of 9, Sarah Ahmed, a student at Helwan University, came home from school crying one day because another student had hit her.
Shortly afterward, her mother signed her up for karate classes at a sporting club. Eleven years later, Ahmed's mother still goes to tournaments to support her daughter and emphasizes the importance of self-defense skills for girls.
Ahmed, after several rounds of sparring, says karate has given her tremendous confidence and helped her become more outspoken.
Similarly, Asma Abdallah, who has been a judo student for more than 18 years, says judo boosted her self-confidence. "I'm not afraid to speak for myself and express my opinions — it's my right," Abdallah says. "Judo has helped me feel strong and find my voice."
Researchers have conducted several studies in the US and Canada that aim to quantify the benefits of self-defense training for women. Results have shown increased perceptions of self-worth, awareness and mobility.
Although no such quantitative study has been carried out in Egypt, members of the martial arts community here are eager to affirm similar benefits. Some coaches feel that the most important reason for girls and women to train in martial arts is the inner confidence they gain from their ability to defend themselves.
Athletes say their training has helped give them self-confidence, and could empower more girls and women to go out on their own rather than stay in their homes.
Many female martial artists also point to how their experiences encouraged them to work to achieve their goals outside of the dojo, or training studio. Martial arts trainers say the fighting spirit can help both in the streets and in the classroom, with one karate instructor saying her training helped her decide to study for her master degree in Islamic history.
Many of the athletes say martial arts have positively impacted their lives and helped develop their character.
Female martial artists are not necessarily confined by gender barriers, but instead fill multiple roles. They are wives, mothers, students and professionals — all while also being accomplished athletes.
This piece was originally published in Egypt Independent's weekly print edition.