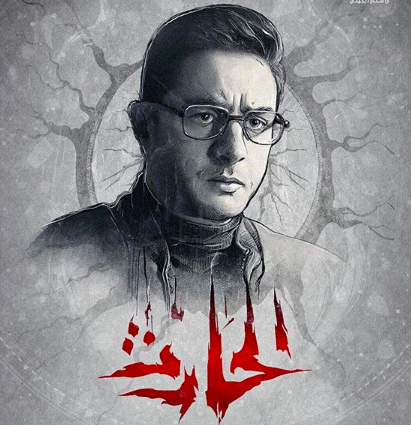 The Egyptian horror film "al-Harith" (The Ploughman) will be made available on the online streaming platform Shahid VIP before being screened in theaters. It is only the second Egyptian film — after "Saheb al-Maqam" (The Owner of the Tomb) — to make its debut on an online platform.
The film's online debut represents another step in the trend toward streaming films exclusively online.
Al-Harith stars Ahmed al-Fishawy, Yasmine Raees, Ali al-Tayeb, Asmaa Galal, as well as guest stars, Bassem Samra, Amr Abdel Gelil, Asma Aboul Yazid, Arefa Abdel Rasoul. The film is directed by Mohamed Nader Galal and written by Mohamed Abdel Khalek. The screenplay and dialogue are by Mohamed Abdel Khalek and Mohamed Ismail Amin.
Raees said that the character she plays in the movie is a new type of role for her, one she has never played, especially since she is usually afraid of horror movies.
She added: "What prompted me to stick to the role is that the film is inspired by real events."
"I play the role of Farida, who is exposed to situations and sees people and ghosts, which makes her think that she is hallucinating. Perhaps what makes the matter worse is that no one believes her."
"Despite her feelings of loneliness, her strong character and determination help her to bravely face the situation," Raees added.
Raees concluded: "I am very happy that the movie will be screening on Shahid VIP, since the audience will be able to watch it in their homes and at the time they choose. Everyone realizes the importance of digital platforms, especially given what the world is currently going through."
Fishawy, who does not consider himself a fan of horror or thriller films, admitted that the film's script charmed him in several ways.
He expanded, saying, "When I read the script, I found that it is different. It talks about matters related to our heritage of inherited myths in our society. This type of film is not common in Egypt or the Arab world, so it is a new and interesting beginning for a different kind of cinematic work."
Regarding the character he plays in the film, Fishawy said: "I play the role of a journalist who believes in science, not in myth, unlike his wife who is exposed to uncanny occurrences. Therefore, there is a mixture of science and paranormal phenomena, which I represent along with my wife in the film."
On screening the film exclusively on Shahid VIP, Fishawy said: "This is generally good, of course. Besides providing the opportunity to present a large group of works later, it allows the largest number of viewers to watch each movie."
Fishawy concluded: "I loved acting with Yasmine Raees in our second film together. Yasmine is a talented actress, and working with her is really fun."
As for director Mohamed Nader Galal, he emphasized that the film sheds light on the challenges that he faced during work. "The film moves us from a horror scene to a romantic scene, which leads to a complete change in the climate and nature of the film, and herein lies the most important challenge, since it is exhausting for the actors and the team as a whole," he said.

Galal added: "We split filming into several stages, including filming inside a villa for interior scenes, and filming outdoor scenes in the streets of Cairo and elsewhere, which also had its challenges. I have high expectations for the film, since it will open the door to a new type of cinematography, and I hope it will be compared to other big films of this kind."
Abdel Khalek meanwhile considers horror films to be one of the most prominent cinematic styles in world cinema, especially since the two factors of terror and fear are important components in our culture.
Abdel Khalek added, "We are afraid of those things that we cannot find an explanation for, and in the midst of fear a set of interconnected feelings unfold […] and from here I wanted to participate in making an Arab horror film that is up to international standards."
Regarding the script and the ideas it carries, Abdel Khalek said, "There are many similar stories that revolve around strange phenomena that we may experience without being able to explain them. […] Often, our fears lead us to metaphysical interpretations, some of which relate to the world of evil forces and Satan, who turns feelings of love into hate and turns the warmth of the family into coldness."
Al-Harith revolves around the story of an objective and rational journalist who is newly married to a woman who has a strong and calm personality. However, their marital life suddenly turns to suspicion and coldness, which undermines the stability of this young family. Audiences later discover that there is an evil power that draws the family into a tale full of mystery, horror and excitement.
Edited translation from Al-Masry Al-Youm