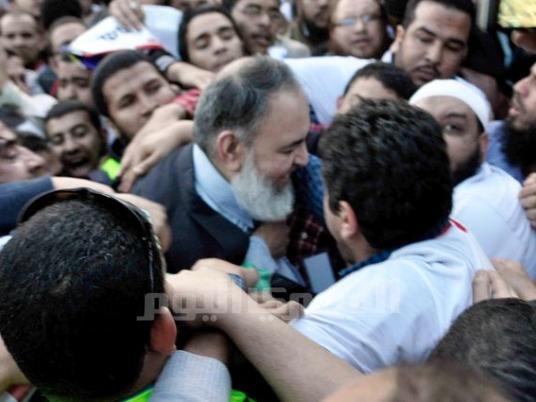 Egyptian Islamic Jihad is considering joining the emerging electoral coalition led by ultraconservative Salafi cleric Hazem Salah Abu Ismail, according to one of the organization's leaders.
Osama al-Qasem of Islamic Jihad said that the talks also include Jama'a al-Islamiya's political arm, the Construction and Development Party, who will contest in the upcoming parliamentary elections mandated by the new Constitution.
Al-Qasem said that negotiations are ongoing, but that Islamic Jihad is likely to field candidates on a shared electoral list with disqualified presidential candidate Abu Ismail's coalition, since it is expected to form the largest Islamic bloc in the elections.
Qasem told Al-Masry Al-Youm he hopes the Construction and Development Party and other Islamist political forces including the Muslim Brotherhood will join the coalition to "form a whole Islamic alliance."
Another leader of the organization admitted that the Brotherhood is not interested in joining forces with Islamic Jihad and other ultraconservative Islamist groups "because Jihad and its thoughts do not reflect them, as they cannot tolerate the name of jihad on their lists."
Ali Farag said that Islamic Jihad would likely cooperate with Abu Ismail, who he called "the black horse in the next parliamentary season."
He said that Islamic Jihad will play to win by choosing the side most likely to gain more votes, but noted that Jama'a al-Islamiya is a logical partner for his group given their shared ideology and history.
Farag said that his group will nominate 'historical' leading candidates including Mostafa al-Desouki, Ahmed Saleh Jahin, Osama al-Qasem, Ahmed Yousef and Abbas Shelen, in addition to a large number of group leaders in most of the Upper Egypt governorates.
Edited translation from Al-Masry Al-Youm