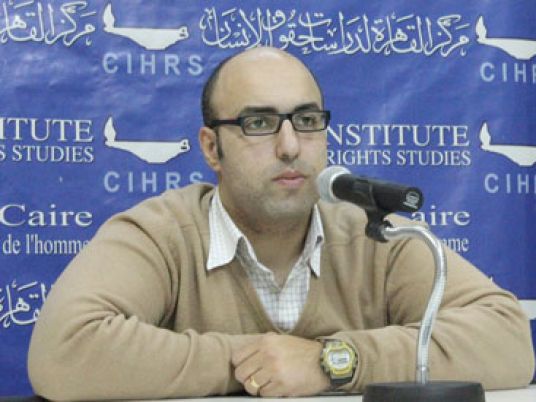 Egyptian lawyer and human rights activist, Mohamed Zaree, has been awarded the most prestigious awards granted to human rights defenders, the Martin Ennals award. However he was unable to accept the prize in person as Egypt banned him from travel over his work documenting abuses.
Mohamed Zaree is one of several prominent Egyptian activists and human rights workers who are banned from travel over allegations of harming national security, part of a wide-scale crackdown on dissent.
The Martin Ennals award is given out by 10 of the world's leading human rights organizations, including Amnesty International and Human Rights Watch, to recognize outstanding work done at great personal risk. Zaree's wife and daughters accepted it on his behalf at the ceremony in Geneva.
In an interview with PRI before the award announcement, Zaree said he was very grateful to be nominated, if anything for the extra security it could potentially give him by raising his profile abroad.
"Being recognized in a prestigious award," Zaree said, "this is a kind of protection."
The winner of the award receives a minimum of 20,000 Swiss francs, while finalists receive a minimum of 5,000 Swiss francs each. Additionally, all three finalists receive 11,650 Swiss francs from the City of Geneva to start a human rights project, along with a travel grant.
The 37-year-old Zaree is responsible for the Cairo Institute for Human Rights Studies' legal research, media outreach and advocacy. The institute was created in 1993 to promote human rights and democracy in the region. Zaree joined the group soon after the 2011 revolution that toppled long-time leader Hosni Mubarak.
Zaree was subject to a travel ban and was deported back to Cairo on his way to Tunisia in May 2016. The travel ban was in reference to a police report filed back in 2011, which accused a number of NGOs, Egyptian activists and rights organizations of receiving illegal foreign funding.