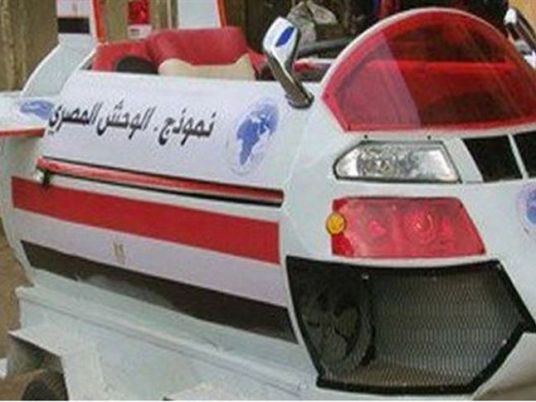 The creator of the "Egyptian Monster", a proclaimed amphibian car and aeroplane whose failure to launch in December 2015 elicited wide-scale public sarcasm, has destroyed his invention, decrying what he described as the government's lack of concern for his work.
Ashraf al-Bendary, the brain behind the "Egyptian Monster", told Youm7 he burned the vehicle on the bank of a canal in Qalyubiya. He said he decided to do this since the government is no longer interested in his invention.
A Youtube video showed Bendary pouring what appeared to be gasoline on the vehicle and then setting it on fire, leaving it to sink in the canal as it burned.
"It is more honorable to burn it as long as it is not going to see light. The sarcasm we were met with from Egyptians was bitter," he said.
"What I had done should be recorded in history," he added, noting that he had embarked on his project seven years ago with the assistance of 21 engineers.
Bendary's appearance in Cairo's Tahrir Square to launch the "Egyptian Monster" among hundreds of curious bystanders was met with curious media attention. He told
Youm7
back then he was a former Armed Forces engineering teacher.
The device's failure to launch was met with sarcasm from people both in the square and on social media. Bendary, at that moment, blamed the glitch on someone who had "messed with the electricity operating rod".