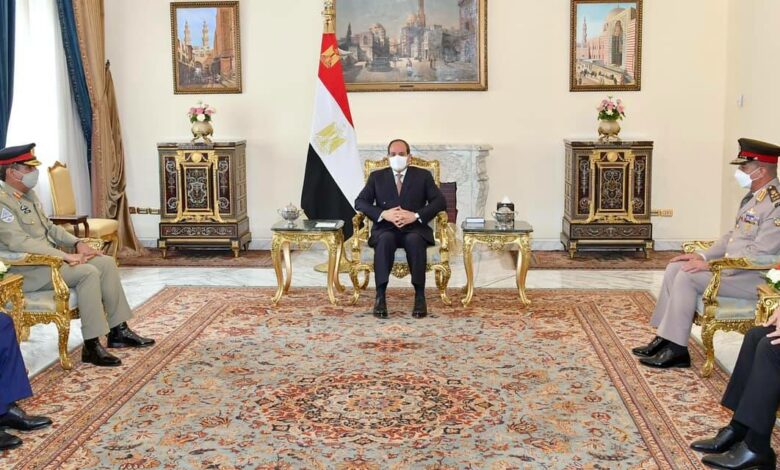 Egyptian President Abdel Fattah al-Sisi on Sunday met  the Chairman Joint Chiefs of Staff Committee (CJCSC) General Nadeem Raza of the Pakistani Armed Forces, in the presence of Minister of Defense and Military Production Mohamed Zaki and the Pakistani ambassador in Cairo.
The spokesperson for the Egyptian presidency Bassam Rady said that President Sisi affirmed Egypt's desire to develop bilateral cooperation with Pakistan and share experience in various fields.
Sisi said that his country is eager to strengthen cooperation with Pakistan on various regional issues and topics of common interest, especially the fight against terrorism and extremist ideology – one of the most important challenges facing the world.
He also touched on the great importance of working together to disseminate proper religious values, acceptance of others and peaceful coexistence.
Egypt's appreciates Pakistan's role as a pivotal country in the region, Sisi added.
Raza affirmed his country's desire to explore new horizons for fruitful cooperation between Egypt and Pakistan, stressing that Egypt's stability is a pillar supporting the Middle Eastern region and the Islamic world as a whole.
He hailed Egypt's inspiring developmental progress under Sisi's leadership, and praised its conscious moves in the region to become a focus of balanced, rational politics, which Egypt recently demonstrated in setting up the ceasefire between the Palestinians and the Israelis and leading efforts to reconstruct Gaza.
The presidential spokesperson said that the meeting touched on ways to enhance bilateral cooperation between the two countries in the security and military fields.
This includes mutual visits involving senior leaders, in addition to the regular holding of the joint defense committee between the two countries, cooperation in the field of defense and military industries, as well as joint training programs, the last of which was the joint exercise "Sky Protectors-One."