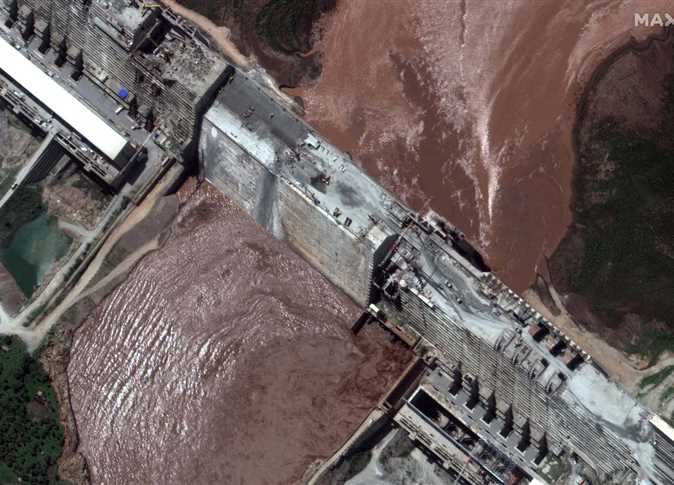 Professor of Geology and Water Resources at the Cairo University Abbas Sharaky said on Sunday that the safety factors of the Grand Ethiopian Renaissance Dam (GERD) remain unknown to Egypt and Sudan.
He added that Egypt, Sudan and Ethiopia agreed to conduct studies on the safety of the GERD, and a French office was chosen, but Ethiopia obstructed the French office's work.
During a phone interview with TV host Amr Adib on his show "al-Hekaya" (The Story) on MBC Masr channel, Sharaky added that earthquakes impact dams greatly, no matter how well constructed they are.
He added: "We saw Turkey emptying its largest dam, the Ataturk Dam, with a capacity of 49 billion cubic meters, while GERD has a capacity of 74 billion cubic meters of water, and this poses a danger."
Sharaky explained that the Great Rift Valley is located near GERD, and poses a threat to the safety of the dam.
He pointed out that American studies were developing a design for the Renaissance Dam with a capacity of 11 billion cubic meters of water, but Ethiopia decided to build the largest dam in Africa with a very huge capacity, which poses a threat to the dam's body.
Egyptian Minister of Irrigation and Water Resources Mohamed Abdel-Aty said in October 2021 that an international committee was formed to study the dam in 2011 and ended in 2013, which he said confirmed that there are major technical problems in the dam's construction which could lead to instability.
Abdel-Aty said Tuesday that Egypt has preventive measures to protect it in the event that GERD collapses. He explained that this is done by establishing the strongest infrastructure system around the High Dam in Aswan.
Stagnant negotiations
Egypt and Sudan consider the dam a threat to their vital water supplies, while Ethiopia considers it essential for development and doubling its electricity production.
Negotiations over the dam between Egypt, Ethiopia, and Sudan have stalled for years, with the three parties ultimately failing to reach any agreements.
Egypt and Sudan say they want a legally binding agreement on operating the dam, while Ethiopia says any pact should be advisory.
The downstream nations fear possible blows to water facilities, agricultural land, and overall availability of Nile water.
The disputed dam is the largest hydroelectric project in Africa, with a cost of more than four billion dollars.