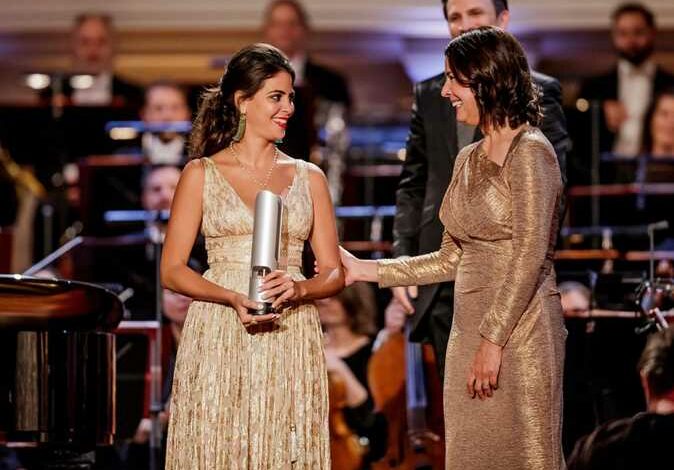 Egyptian soprano Fatima Saeed received the "Opus Klassik", Germany's most prestigious classical music prize, at the Konzerthaus Theater in the German capital, Berlin on Sunday.
"When I came to Berlin, I did not expect that I would receive this award," Saeed wrote on her personal Facebook page, on Monday.
The Opus Klassik Awards, which take place in the German capital in October every year, is one of the most important classical music awards. The jury consists of nine members representing the music industry and the media in the world, with 47 winners selected in 25 artistic categories.
The award was granted to other international artists, including Swedish maestro Martin Frost, British violinist Daniel Hope, Russian pianist Daniil Trifonov, French trumpeter Lucienne Vary, Spanish singer Pablo Ferrandez and Norwegian violinist Ragnhild Hemsing.
Saeed was born in Cairo in 1991, and moved to Berlin 12 years ago with the aim of enriching her artistic talent with operatic singing academically.
Her fondness for opera began at the Cairo Opera House after she received her first singing lesson at the Nevin Allouba studio at the age of fourteen, to be accepted later at the Hanns Eisler School of Music in Berlin, where she later won the excellence scholarship award, and the Start Up Award 2013.
After Saeed obtained a Bachelor of Music degree from the Hanns Eisler School of Music in 2013, she was awarded a scholarship to study at the Accademia Teatro alla Scala in Milan, Italy, becoming the first Egyptian soprano to sing on this ancient stage.
During her artistic career, Saeed won many international opera competitions, such as the Veronica Dunne International Singing Competition in Dublin, the Jensen Foundation Vocal Competition in Istanbul, and the Grand Prize in the International Giulio Perotti Singing Competition for the first opera in German, as well as the top prize, last August, in Jugend Musiziert annual competition for young musicians held in Germany every year.
She sang at the Alla Scala Theater in Milan and she took the stage of the world's most famous opera houses, and represented Egypt in many international festivals, including Naples, Leipzig, Berlin, Cairo, Muscat, Bonn, Spain, Turin and Bodrum.