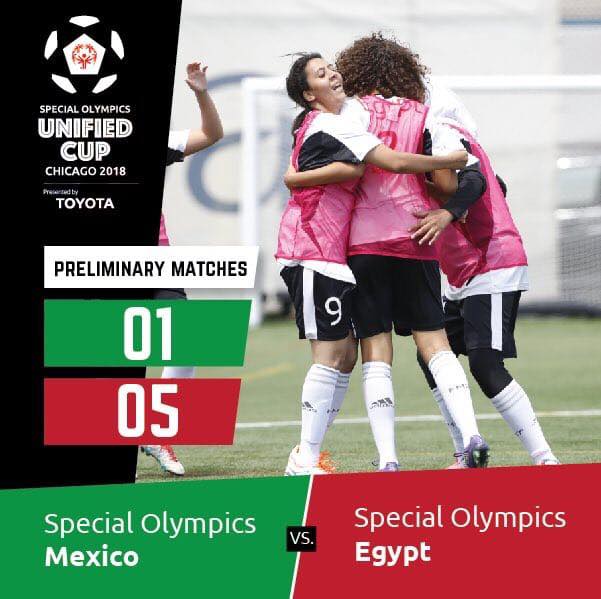 Egyptian athletes continue to make Egypt proud in yet another feat, but this time in the Special Olympics Unified Cup taking place in Chicago from July17-22 . Egyptian women's football team qualified to the semi-final round of the tournament on Thursday after smashing Mexico, achieving an impressive 5-1 victory. 
The Egyptian team qualified for the tournament after being crowned as Special Olympics Female Unified MENA's Regional Cup champions last December, where three Arab countries vied for the qualification:  The United Arab Emirates (UAE), Tunisia and Egypt.
Egypt is the only Middle Eastern country to qualify for the women's competition, while the UAE's men football team was the only other qualifier from the region.
The Special Olympics Unified Cup is taking place for the first time as part of the 50th anniversary of the Special Olympics celebrations.  The tournament is held under the slogan "Inclusion Revolution- Play Unified-live Unified."
The Special Olympics Organization (IOC) dates back to 1968, and is considered the world's largest sports entity that prioritizes athletes with intellectual disabilities.
There have also been world events to celebrate champions with disabilities in different sports, most prominently the Paralympics and the Special Olympics World games. While the Paralympics focuses more on physical disabilities, the Special Olympics addresses the inclusion of athletes with intellectual impairments.
Egyptian athletes have always excelled in competitions for people with special abilities. In 2017, Egypt won two medals in the Special Olympics World Winter Games. More recently, Egypt swooped 96 medals in Abu Dhabi's Special Olympics MENA Games in February 2018.