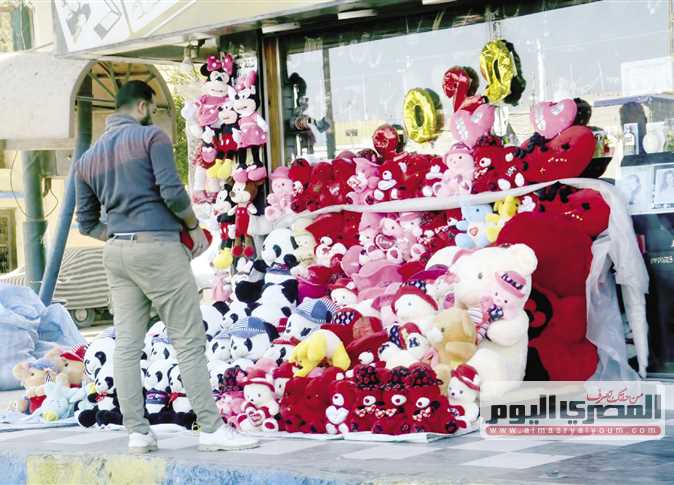 Spending on Valentine's Day in Egypt has increased by 37 percent since 2017, with spending on gifts and related expenses during the days leading up to the holiday totaling upwards of $US 12 million over the course of the last three years, according to data from MasterCard.
Globally, spending related to the so-called "love economy" grew at five times the rate of the global economy since 2017, increasing by 17 percent in the last three years, according to a study of MasterCard transactions conducted in more than 53 countries around the world.
In Egypt, the study showed that Egyptians spend more in the few days leading up to February 14 than any other time in the year, based on the total number of MasterCard transactions between February 11 to 14.
Egyptians' spending during the period leading up to the holiday on gifts and related expenses has increased by 46 percent over the past three years, reaching more than US$ 12 million, according to the annual MasterCard Love Index, which analyzes spending habits and trends during Valentine's Day by reviewing transactions made via credit, debit, and prepaid cards around the world.
The study added that spending on flowers in Egypt during the holiday increased by 115 percent compared to last year, while spending on jewelry increased by 92 percent compared to the past three years.
Meanwhile, spending on hotel reservations rose by 43 percent during 2019, with spending on flights amounting to US$ 4 million.
Also last February, spending among Egyptians on Valentine's Day gift cards increased by 85 percent. 
Treating loved ones to a meal out remains a number one way to win hearts on Valentine's Day in Egypt. Since 2017, there has been a 66 percent increase in the number of MasterCard transactions in restaurants across the country during the holiday, with total spending on Valentine's Day having increased by 86 percent in 2019, totaling $US 700,000 that year alone. 
Mohamed Assem, Director of MasterCard Egypt, said that spending on classic Valentine's items like flowers and jewelry in the country has increased significantly.
"Egyptians (who are) interested in celebrating Valentine's Day (and) keen to invest time and create special memories (during the holiday) prefer unique experiences, (but) in spite of that, we have noticed a big increase in spending on traditional gifts like flowers and jewelry."
"The annual MasterCard Love Index is a unique look into the development of purchasing behavior over time," he added.
Meanwhile, last-minute Valentine's Day shopping remains popular in Egypt, with the study recording that most transactions were conducted during 2019 on February 13, the day before Valentine's Day.
Still, those numbers compare favorably to studies conducted in 2018 and 2017, when the majority of gifts were purchased on February 16, two days after the holiday.
Edited translation from Al-Masry Al-Youm