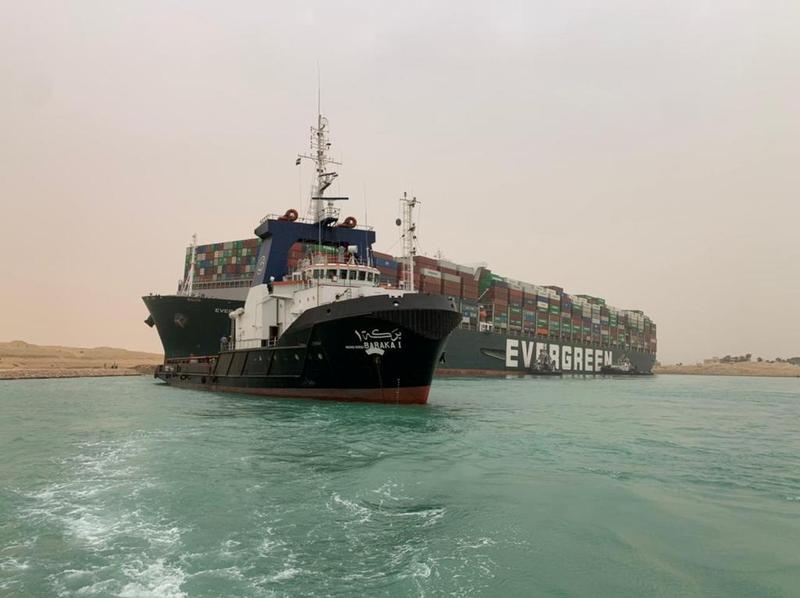 Egypt's Suez Canal authorities have faced their toughest peacetime challenge yet after the gigantic Ever Given container ship lodged in the Suez Canal, according to a Tuesday article from the English newspaper Financial Times.
According to the newspaper, the canal is where Egypt's where economic interests and national pride converge, noting that Egyptians celebrated once the ship was freed and passage could resume through the canal.
Freeing the Ever Given it was more than just getting trade back on track, the Financial Times said it was a matter of national pride.
Hundreds of ships had accumulated at the waterway's entrance, leading the Egyptian canal authorities to deal with their toughest peacetime challenge yet – one where both economic matters and the reputation of the country was at stake.
For over half a century, Egyptian guides were able to keep the Suez Canal's traffic at a smooth pace, the article said, and they defied the expectations of colonial powers when Egypt nationalized the vital trade artery in 1956.
When the ship finally refloated on Monday, President Abdel Fattah al-Sisi said that Egyptians have proven that they are responsible and that the canal dug by their ancestors will continue to bear witness to the fact that Egyptians are in charge of their own destiny.
The newspaper explained that the canal was more than a source of foreign currency, but a symbol of sovereignty for which thousands sacrificed their lives in wars to protect it, and during the long drilling process from 1859 to 1869.
A professor of political science at Cairo University Mustapha Kamel Al-Sayyid said that the Suez Canal Authority is at the forefront of state institutions that work well. He added that since the reopening of the canal in 1975, Egypt has made great efforts to expand and deepen it further.
This includes a 2015 venture worth eight billion US dollars and funded by public bonds where the state dug a channel 35km deep to create a new lane allowing two-way traffic.