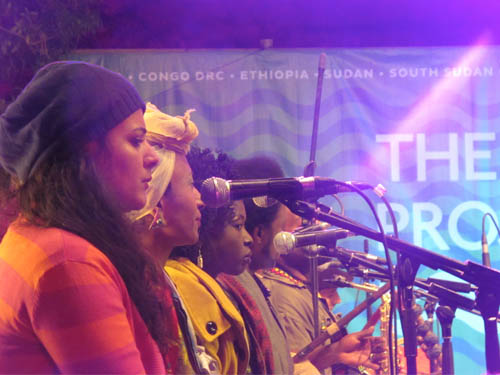 Egyptian singer Dina El Wedidi is listed among TIME Magazine's Next Generation Leaders alongside ten individuals coming from various countries.
The list includes three Africans: El Wedidi, Nigerian Chef Tunde Wey, and Ramla Ali, the Somalian professional boxer.
Joseph Jincks, author at TIME Magazine, wrote a feature about El Wedidi highlighting many phases in her artistic journey, especially her debut album Turning Back released in 2014. In this album, El Wedidi prompted audiences to delve into Egyptian folk music as well as Arab poetry.
Another remarkable step in her artistic life is her collaboration with African artists on the Nile Project, through which they revived African culture despite ongoing conflicts over the Nile's water. The artists presented African music to American and European audiences.
The TIME feature also referred to Wedidi's recently released album Slumber, in which she depicted daily life in Egypt's railway stations.
"I sampled Egyptian trains at different stations, the sounds the seats and broken windows make, to create harmonies, melodies and rhythm," she told TIME.
Wedidi established her music career by learning to sing Egyptian Folk music, especially Bedouin music. Notably, it is unusual for these songs to be performed by female artists, according to TIME.
Wedidi launched her band in 2011, portraying Egyptian music heritage by fusing types of music together including jazz music, electronic music and more.
Wadidi participated in a tour in the US with renowned mentor Gilberto Gil.
TIME also revealed that she will be kicking off a tour in Europe with the Palestinian singer Kamilya Jubran.