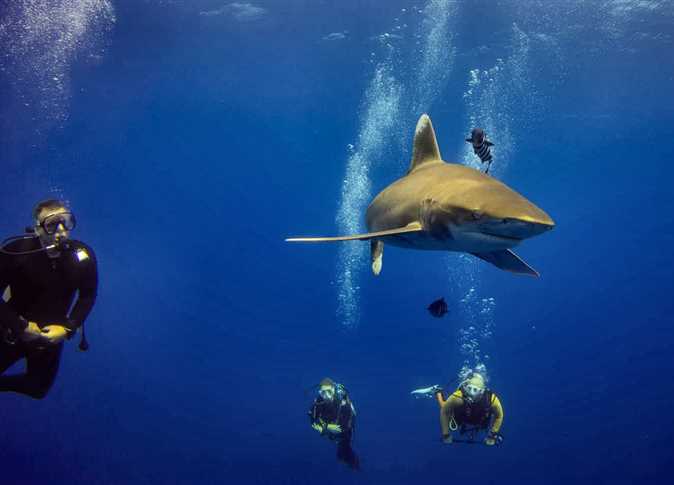 The Chamber of Diving and Water Sports (CDWS) in Egypt announced it will organize awareness training courses regarding safe practice for divers to interact with oceanic white-tip sharks, during January 2020.
The dates and locations of the courses have been set in Hurghada for January 19, 2020.
A statement from the CDWS said that these courses target professional dive guides, dive instructors and technical managers.
The president of the CDWS Hisham Gabr explained that they contacted many marine and environmental experts specialized in shark behavior, all of which agreed that dumping waste of any kind contributes to changing shark behavior towards practitioners during diving activities.
He said that the poor practice by staff on-board safari tourist yachts, alongside not abiding by the proper approach in informing tourists on how to interact with the marine environment, such as with feeding sharks, has put the lives and safety of divers and practitioners at risk.
It is due to this poor practice that sharks are becoming more hostile, which has forced the CDWS to step in and establish measures in training safari yacht crews.
Diving instructors, coaches and technical managers of safari yachts must attend training sessions for half a day, Gabr added, stressing that no diving instructors, coaches or technical managers will be allowed to work on safari yachts until they have attended these courses.
He explained that attending these courses is now a condition to issue the professional card required to work on board safari yachts or diving centers.
Edited translation from Al-Masry Al-Youm