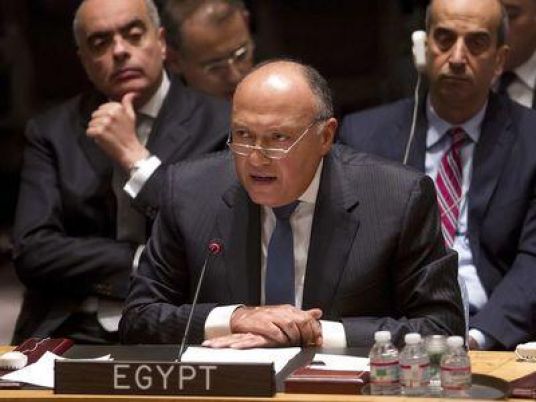 Egyptian Foreign Minister Sameh Shoukry will be heading to Washington on Monday for a two-day visit to build further relations with the US, Foreign Ministry spokesperson Ahmed Abu Zeid announced on Sunday.
During the visit, Shoukry will hold talks with his American counterpart Mike Pompeo and National Security Adviser John Bolton. The minister will also meet members of the American Chamber of Commerce, where he will meet with representatives of the major American companies investing in Egypt or wishing to invest.
Shoukry will also participate in a round table talks with a number of influential American personalities working in research centers interested in Egyptian and Middle Eastern affairs, and hold interviews with several American news outlets.
Abu Zeid stated that the visit aims to strengthen strategic Egypt-US relations, emphasize the importance of achieving common interests across various fields, and coordinate dates for the next round of the "2+2" dialogue meetings between foreign and defense ministers from the two countries.
These 2+2 dialogue meetings were first announced after talks between Shoukry and the former US Secretary of State Rex Tillerson in Cairo on February. Tillerson said that this dialogue mechanism will further enhance conversations on a full range of issues, not just security concerns but political and economic opportunities as well.
The talks will exchange views and assessments on Middle Eastern issues and common challenges. Washington and Cairo are keen to intensify their consultations and coordination to enhance stability in the region, Abu Zeid said.
The Foreign Ministry Spokesman said that Shoukry will hold bilateral talks with Pompeo at the US State Department. The talks are expected to discuss various aspects of bilateral relations, including the US aid program to Egypt in various economic, developmental and military aspects.
The Foreign minister will also brief his US counterpart on the status of the economic and social reform program adopted by the Egyptian government in order to accelerate production, achieve stability and growth. He will also discuss Egypt's efforts to combat terrorism, especially in light of the successes achieved in the "Comprehensive Operation – Sinai 2018" military campaign at driving Sinai's terrorists.
Shoukry will also meet with National Security Adviser John Bolton for the first time since the later took office in April. Discussions with Bolton will focus on ways to advance bilateral relations as well as consultations on regional developments in the Middle East and some international issues of mutual concern.
Edited translation from Al-Masry Al-Youm