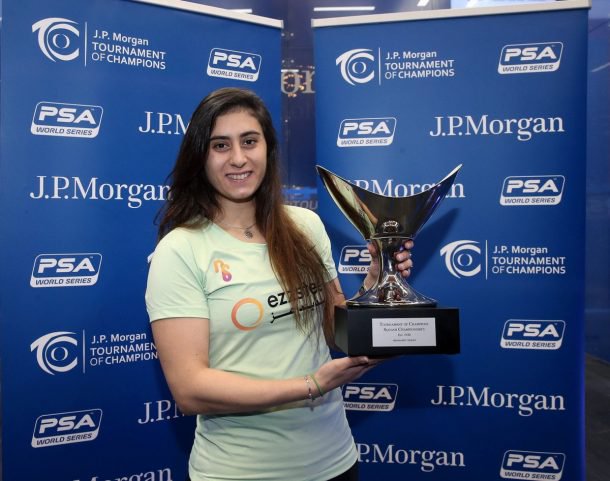 Egyptian squash champ and world number one Nour Al-Sherbiny secured the 2018 Women's J.P. Morgan Tournament of Champions title in New York City on Friday after beating her fellow Egyptian champ Nour Al-Tayeb 3-2.
In 56 minutes, Al-Sherbiny was able to defeat world number eight in an all-women Egyptian final with a 3-2 (2-11, 11-6, 4-11, 11-7, 11-7) scoreline.
"I'm extremely happy, I couldn't have asked for a better start to 2018. I've been playing well and this is my fifth final in a row," Al-Sherbiny said to the tournament's official website.
"It's an unbelievable feeling right now, I cannot describe it. Hopefully I can keep this momentum going for the rest of the season," she added.
Meanwhile, Tarek Momen, world number seven, lost to his German competitor, world number eight, Simon Rosner for the men's title. In 71 minutes, he was able to beat Momen  with a 3-1 (11-8, 11-9, 6-11, 11-5) scoreline.
"That was the biggest match of my career and to win it is incredible. Coming here this week, I didn't expect to win the championship," Rosner said following the game.
This year, Grand Central Terminal Vanderbilt Hall witnessed three Egyptian finalists competing for the title in New York.