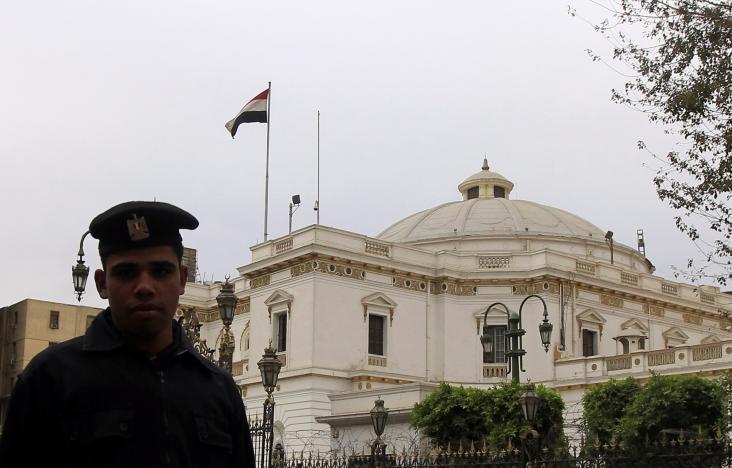 Egypt's Parliament on Tuesday approved a draft law offering special treatment to high-ranking army officers or the supreme leaders of the Egyptian Armed Forces, guaranteeing them the same benefits as ministers.
According to Al-Ahram newspaper, the articles of the law also state that retired high-ranking officers may be recalled into duty if Egypt's President issued a decision to have them continue serving the Egyptian Armed Forces.
The law also stipulates special treatment to the supreme leaders of the Egyptian Armed Forces, adding that they can now enjoy state's advantages granted to ministers.
The draft law further explained that supreme leaders of the Egyptian Armed Forces would not be held under investigations or any other legal action for acts committed while Egypt's constitution was suspended during the third of July 2013 to eighth of June 2014, unless clear permission is granted from the Supreme Council of Armed Forces.
In the same context, the law also says that supreme army leaders traveling outside the country can enjoy special immunities prescribed for Presidents, members of diplomatic missions and their summons.
Controversy erupted on social media regarding the law, with questions raised over what reasons pushed the Parliament into approving it.
Some users viewed this step as widening gaps in society further, while others see the approved draft law as a step undertaken by the state to provide protection for army leaders who may face harsh measures for siding with the Egyptian people's demands during difficult regimes.
The law does not specify any specific names of the army leaders who would benefit, but indicated that they were "senior commanders of the armed forces" and that President Abdel Fattah al-Sisi would issue a decision on their names.
According to Al-Ahram, a committee formed by the parliament to prepare the law justified the legislation, saying: "These loyal Egyptian army leaders have sacrificed their lives for the security, stability and interests of Egypt during historic days and in the face of multiple challenges facing Egypt and its people."