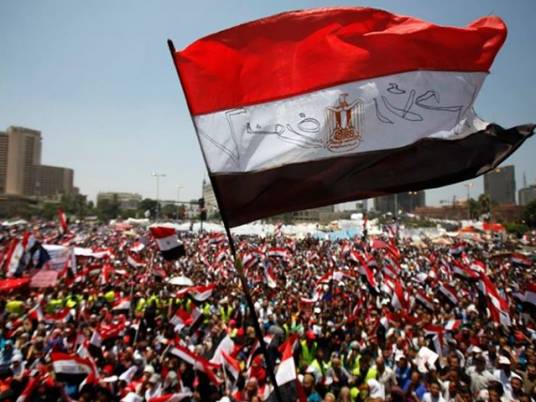 Egypt's political parties have begun celebrating the sixth anniversary of the June 30 Revolution in several governorates, amid a heightened security presence.
On Saturday, the Wafd liberal party held a major celebration at the party headquarters in the presence of Wafd leaders and senior public figures.
Wafd Party President Baha Eddin Abu Shaqa said in a statement that the Cultural Wafd Salon will organize a major symposium called "June 30, Six Years of Harvest", during which several public figures will discuss the results of the fruitful June 30 Revolution in the following six years, and its role in revitalizing Egypt's political and cultural life alongside putting Egypt on the international map and ensuring the country's tranquility.
The Egyptian National Movement Party conducted a series of events in the secretariats of the governorates to commemorate the June 30 Revolution anniversary, along with a celebration at the party's headquarters on Saturday.
Khaled al-Awami, official spokesperson of the party, said that the celebration's goal is to commemorate the revolution, and consolidate immortal national concepts. He stressed that six years ago the people revolted against the rule of religious fascism, proving to the world that Egyptians hold a strong will that no one can break.
The nation witnessed tightened security measures in preparation for the celebrations for the anniversary, as the political parties finalized their preparations.
In Suez, the Security Directorate intensified rapid deployment patrols in the streets, and sent campaigns to arrest outlaws and set up fixed and mobile checkpoints at the entrances and exits of the city.
The Directorate of Youth and Sports in Aswan to organize a sports march in which members of youth centers and sports clubs will participate in the celebration. It will start at the Aswan Sports Club and end in front of the rowing club for water sports.
In Minya, Minia University President Mostafa Abdel Nabi opened the cultural sports festival "Tale of the Homeland", a marathon in which more than 500 students participated.
At Kafr Sheikh, the authorities intensified security in public areas and government institutions.
Over at North Sinai, the governor set up a main operations room to monitor and follow up on complaints. The state of readiness also increased in all hospitals, as well as announcing high readiness across ambulance facilities.
Edited translation from Al-Masry Al-Youm