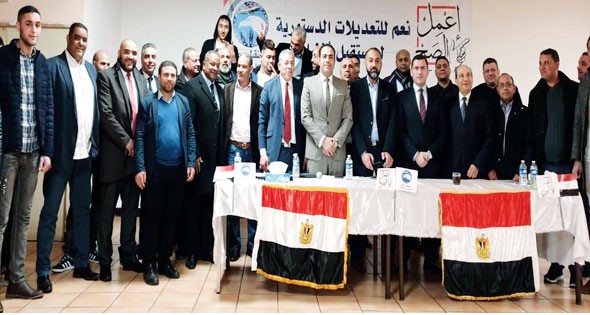 Various Egyptian political parties urged citizens to cast their votes in the referendum on the constitutional amendments on April 22-24, asserting that the increasing rate of participation would be indicator of the nation's stability.
President of al-Wafd Party, Bahaa al-Din Abu Shoka, stated that the party's members approved the amendments and implored the people of Egypt to participate in the referendum as a constitutional right.
The al-Shaeb al-Gomhuri party organized forums and conferences across the country to explain the articles and reasons for the amendments.
Homaa al-Watan party said that the amendments were necessary due to the current situation in border countries such as Libya, Sudan, Gaza, and the reshuffling of the political regime in Algeria.
Al-Maṣriyin Al-Aḥrar party will organize a conference called "Wayak Yehmeha" (Your awareness will protect her) in Port Said on Friday to discuss the constitutional amendments and showcase the importance of participating in the referendum.
President of Masr al-Thawra Party Hussein Abu al-Atta criticized campaigns asking for the boycott and non-participation on the constitutional referendum.
Edited translation from Al-Masry Al-Youm