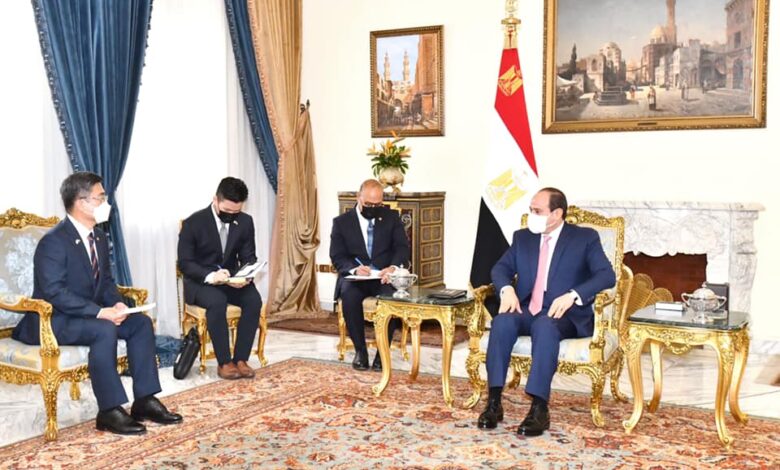 Egyptian President Abdel Fattah al-Sisi on Tuesday met with the South Korean Defense Minister Suh Wook, in the presence of the Egyptian Minister of Defense and Military Production Mohamed Zaki, South Korean Minister of Defense Acquisition Program Administration Kang Eun-ho, and Hong Jin-wook, South Korean Ambassador to Cairo.
The Egyptian presidential spokesperson Bassam Rady said that Sisi expressed Egypt's pride in its close ties with South Korea.
He affirmed that Egypt desires to further advance bilateral cooperation, particularly in the military and defense fields, and seeks a comprehensive cooperative partnership that suits the needs of both nations and enables Egypt to benefit from South Korea's developmental experience.
Egypt now enjoys a modern and integrated infrastructure system of facilities and services that provides a strong basis for establishing any development cooperation partnership, Sisi said.
The South Korean Defense Minister on his end expressed his country's appreciation for the recent development and prosperity of Egyptian-Korean relations.
South Korea is interested in deepening these fruitful relations, he added, in light of the development boom that Egypt is witnessing under the leadership of President Sisi and the pivotal role Egypt plays in maintaining the region's security.
Suh Wook further touched on working to consolidate the military and security matters as part of joint cooperation relations, and said that his nation is eager to invest further in Egypt's major developmental projects, and those in various other areas.
The meeting also discussed joint manufacturing. technology transfer and localization to support Egypt's responsibility to achieve stability, security and combat terrorism, Rady said.