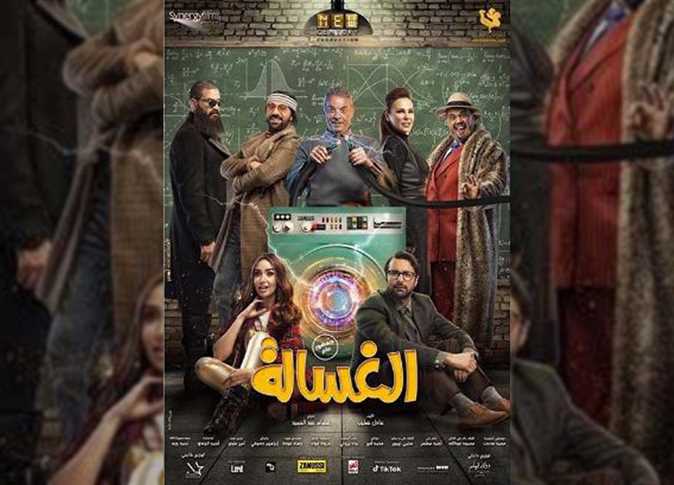 This Eid al-Adha cinema season, one of the most important seasons for film screenings throughout the year, emerges in the wake of the coronavirus pandemic which shuttered theaters across the country that are only now returning to life a capacity limit of 25 percent.
Producers did not find this new occupancy limit attractive enough for new releases, with only one film announced to be screening in theaters this Eid: "al-Ghassala" (The Washing Machine), according to the director of a distribution company Safwat al-Helbawy.
Starring Ahmed Hatem, Hana al-Zahid, Mahmoud Hamida, Mohamed Salam, Bayoumi Fouad, Ahmed Fathy, and Taher Abolila, the movie is written by Adel Salib, directed by Essam Abdel Hamid, and produced by Synergy Films, New Century and Misr International Films.
Speaking to Al-Masry Al-Youm, Helbawy explained that in light of the 25 percent capacity limit, producers expect this Eid film season to only return profits if one or two films are screened.
This means that several newly finished movies will not be screening in cinemas.
These include "Awdet al-Aref" (The Return of the Knower) starring Ahmed Ezz, "al-Ankabout" (The Spider) starring Ahmed al-Sakka, which was postponed to 2021, as well as "al-Baad La Yazhab lel Maazoun Maretain" (Some Do Not Go to the Marriage Registrar Twice) starring Karim Abdel Aziz.
And screening dates remain unannounced for "Zenzana Seven" (Cell Seven) starring Ahmed Zahir and Nidal al-Shafei, "Shereet Six" starring Khaled al-Sawy, "Mousa" starring Karim Mahmoud Abdel Aziz, and "Al-Harith" starring Ahmed al-Fishawy and Yasmin Raees.
Another distribution company director, Hassan Abdel Fattah, told Al-Masry Al-Youm that the film "Saheb al-Maqam" starring Yousra and Asser Yassin will only debut through electronic platforms this season.

He added that the movie "Tawaam Roahy" (My Spiritual Twin) will not be shown in cinemas due to a lack of agreement on when it would be screened across the Arab world.
Films already being screened before cinemas were shuttered, such as "al-Flous" (The Money), "Les Baghdad" (Baghdad Thief), "Ras al-Sana" (New Year's), and "Banat Thanawy" (Secondary School Girls), will be screened if no new films are released this Eid, Abdel Fattah explained.
Edited translation from Al-Masry Al-Youm