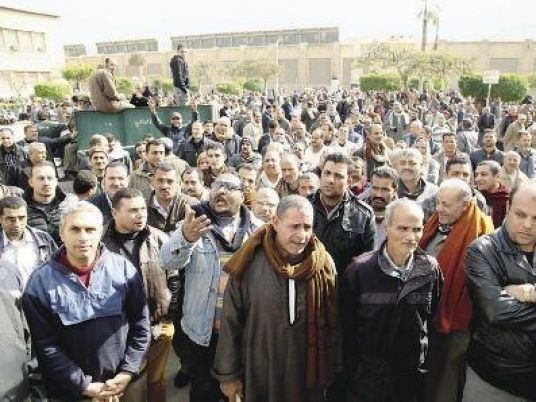 Workers at the General Company for Electrical Projects (ELEJECT) announced they would continue their sit-in to demand the disbursement of accumulated bonuses since 2006, said Hoda Kamel, leader of the Egyptian Federation of Independent Trade Unions Wednesday.
Two workers were arrested earlier this week for allegedly detaining the chairman of the board of directors at his office.
Yasser Ahmed and Hany Fawzy were arrested from the president's office but were later released after the accusations were proven unfounded, according to Kamel. Ahmed and Fawzy were part of a delegation that headed to the president's office to discuss the workers demands.
Kamel added that the accusation was unreasonable as the chairman of the company was surrounded by several police chiefs. Members of a trade union committee that were present at the company's headquarters also testified in favor of the two workers, which helped to secure their release.
Lawyer Sarah Rabee said she believes the two men were unjustly arrested in order to intimidate the rest of the workers who are demanding their rights.
ELEJECT is a public sector company that operates in the installation of power plants and the delivery of electricity nationwide. The company employs approximately 2,500 workers, according to Kamel.
The ELEJECT sit-in comes after the company's president had promised to disburse accumulated bonuses before mid-February.